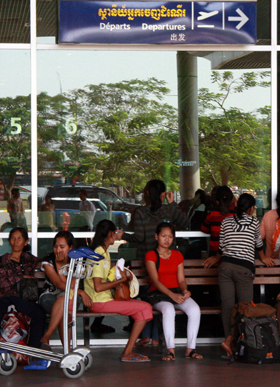 Number of passenger flights down 10 percent compared with first 5 months of 2008, while cargo sees sharper decline
THE number of passengers entering Cambodia in the first five months of this year dropped 16 percent on the same period last year, with the number of flights down almost 10 percent. Cargo brought in and out by air was also sharply down.
Khek Norinda, communications and marketing manager for Societe Concessionaire de l'Aeroport (SCA), which runs the Kingdom's airports, told the Post that flights were down as a result of reduced demand.
"We have witnessed a significant slowdown in traffic at the two international airports in Phnom Penh and in Siem Reap, both for passengers and cargo," Khek Norinda wrote in an email.
Figures from the government's State Secretariat for Civil Aviation (SSCA) showed during that period 1.15 million passengers arrived or left on domestic and international flights through Phnom Penh and Siem Reap airports. That was down from 1.37 million in the first five months of 2008, a drop of 16 percent.
Siem Reap was worse affected than the capital, with passenger numbers down almost 19 percent to 555,000 in the first five months. The total number of flights into and out of the country dropped by 1,500 to 13,914.
Cargo figures through Phnom Penh International Airport - the Kingdom's sole air-cargo hub - were hit hard. The airport received 3,353 tonnes of cargo between January and May 2009, down 41 percent on the same period in 2008. Cargo leaving the country dropped 31 percent to 3,093 tonnes.
Representatives of Korean Airlines and Bangkok Airways - two of the key carriers - could not be reached for comment on Sunday.
But Khek Norinda said airlines would be affected.
"Less traffic means contraction of revenues. Financial results will be obviously affected like all other stakeholders in [the] aviation industry compared to 2008," said Khek Norinda.
Despite the release of passenger, flight and cargo numbers, SCA again failed to publish figures on its revenues. The latest figures available - in the Cambodian Civil Aviation Data Book published by the Civil Aviation Authority in February - showed that SCA made revenues of US$10.77 million in 2006.
Mao Havannal, secretary of state at the SSCA, told the Post earlier this month that swine flu and lower disposable income were the main reasons behind the drop in air passengers.
Khek Norinda said that, despite the current problems, the mid- and long-term prospects for Cambodia's airports remain strong.
SCA said it had taken measures aimed at boosting air traffic to Cambodia in order to overcome the current effects of economic crisis.
"We have implemented an ambitious incentive package policy: We offer significant discounts to encourage airlines to open additional routes and to increase their flight frequencies in our international airports," he wrote. "Obviously, specific conditions are offered in Sihanoukville airport in order to facilitate opening of new routes to the airport."
SCA said it is also undertaking marketing at trade fairs in conjunction with the Ministry of Tourism to promote the Kingdom.
Contact PhnomPenh Post for full article
Post Media Co Ltd
The Elements Condominium, Level 7
Hun Sen Boulevard
Phum Tuol Roka III
Sangkat Chak Angre Krom, Khan Meanchey


12353

Phnom Penh




Cambodia



Tel: +855(0) 23 888 161 / 162
Fax: +855(0) 23 214 318