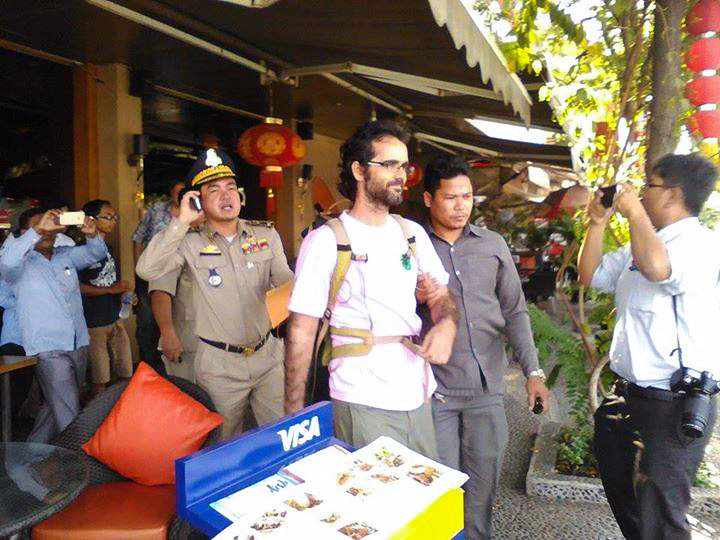 Environmental activist Alex Gonzalez-Davidson, deported by immigration officials nearly a year ago, has been charged by the Koh Kong Provincial Court along with two co-founders of his NGO Mother Nature, according to the wife of one of the group's three detained activists.
Tha Sophea, wife of jailed activist Sem Samnang, said yesterday that when she visited her husband at the provincial prison on January 30, he told her that Davidson along with monks Sok Chantra and Prom Dhammajat have been charged by the court as accomplices to the same alleged crime that resulted in the original arrests.
Try Sovikea, Sun Mala and Lem Samnang were arrested in August over their anti-sand dredging activities and charged with threatening to cause destruction, defacement or damage and ordering others to do so. They were denied bail in September.
"According to my husband, the court charged [Davidson, Chantra and Dhammajat] of being accomplices; they said that my husband's protest was backed by those … people," Sophea said.
Asked to verify whether Davidson and the two monks have been charged, Koh Kong Provincial Court director Huon Many, insisted he didn't know, telling reporters to "ask the prosecutor since the warrant has not reached me yet".
But he then went on to hint at the basis of any potential charges. "If there is an additional charge, it will be laid on the [financial] backers, since the investigation showed that there are people who provided the money," he said, referencing the investigation against the already detained activists.
"It's time for me to return": Read Alejandro Gonzalez-Davidson's letter to the editor
The provincial court director today confirmed that the investigation has wrapped, though a trial date has not been set.
Prosecutor Bu Bunheang declined to comment while investigating judge Chhun Davy could not be reached.
Am Sam Ath, technical coordinator for rights group Licadho and defence counsel for the detained Mother Nature activists, said yesterday that his team was pushing for the court to publicly confirm the charges.
Speaking yesterday, Davidson – who was deported last February 23 – characterised the actions by the court as "illogical" given that he is currently barred from entering the country and unable to appear in court.
"It's denying my right to a fair trial," he said, adding "I'm not going to lie and say I'm not afraid of going to jail."
Meanwhile, opposition lawmaker Son Chhay, in a letter signed off on by National Assembly President Heng Samrin yesterday, requested that the Ministry of Mines and Energy disclose environmental impact assessments as well as government revenue from the sand-dredging operations in Koh Kong province at the centre of the Mother Nature case.
Additional reporting by Alessandro Marazzi Sassoon
Contact PhnomPenh Post for full article
Post Media Co Ltd
The Elements Condominium, Level 7
Hun Sen Boulevard
Phum Tuol Roka III
Sangkat Chak Angre Krom, Khan Meanchey


12353

Phnom Penh




Cambodia



Tel: +855(0) 23 888 161 / 162
Fax: +855(0) 23 214 318