Beneath a tree in Phnom Penh's remote Prey Speu Social Affairs Centre – a de facto prison used to indefinitely incarcerate some of the capital's most vulnerable citizens – a woman yesterday chanted loudly before bursting into tears and then laughter.
Like many others at the facility, she later said she did not know where she was, or how long she had been there.
While normally restricted from the media, unusual access to the centre was granted yesterday to coincide with a visit from Cambodia National Rescue Party lawmaker Ke Sovannaroth.
Eighty-nine men, women and children remain imprisoned there after being rounded up from the streets as part of official efforts to "clean" the city. Their so-called crimes ranged from being homeless to being mentally ill.
Many were among the 315 people arrested in preparation for late Senate president Chea Sim's recent funeral. Others claimed to have been held there for months, or even years.
Almost everyone interviewed said they had been detained in the centre on numerous occasions.
Since it opened in 2004, Prey Speu has been plagued with allegations of abuse, rape and even murder.
The centre was officially shut down in June 2012, but re-opened the next year, rebranded as the Por Sen Chey Vocational Training Centre.
One inmate said in an interview that conditions at the centre have actually worsened since the name change.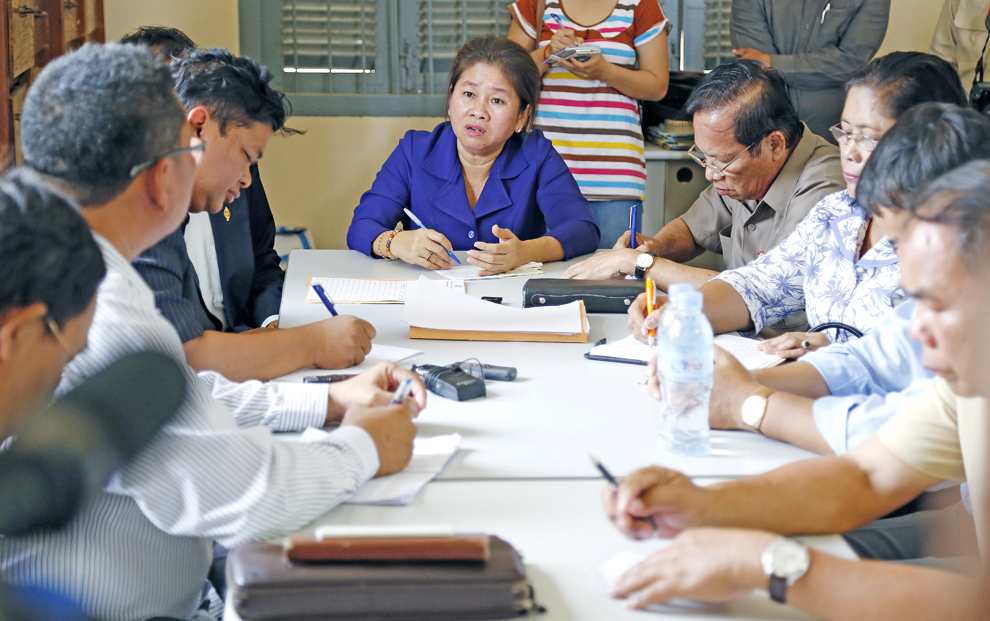 While the grounds contain a number of buildings, just two rooms are used to house those detained there.
Graphic sexual images have been inscribed onto their walls next to messages of fear and desperation.
"Don't beat me", reads one of the notes, etched in Khmer script. "You will die if you live seven days in here", reads another.
The ceiling of one of the rooms has been broken. Detainees claim this is evidence of attempted escapes.
Two men sat silently on the floor next to a bucket used as a toilet. Their shirts were ripped and filthy.
Outside, a security guard shepherded a man crawling on the grass over to a nearby tree.
He pulled a tin can from his pocket and hit it rhythmically with a stick. With every hit, the man cowered and covered his face.
"It is hell to stay here," said 33-year-old detainee Yon Vy, cradling her young child.
"I want to go back [to the streets] now. There is no training; there isn't enough food; we share a room with men; there is no freedom here."
Another detainee, 18-year-old Sam San, pleaded with Sovannaroth to secure her release.
"If we don't leave today, then when all of you leave, they [the guards] will beat us," she said. "We are scared."
When asked yesterday if they wanted to leave the centre, a group of more than a dozen detainees instantly raised their hands. Many were in tears.
But despite their pleas, none were granted release.
One of the men held at Prey Speu yesterday was 57-year-old Hong Thiv, who goes by the name "Cobra".
Cobra – a handle he adopted after being bitten by a snake and cutting off his own arm with an axe to stop the poison from spreading – said he had been at the centre for about a week, but had been imprisoned there countless times since 2007.
Having fled to the US in 1980, Cobra, who speaks with an American accent, was deported back to Cambodia years later after being convicted of manslaughter and spending two-and-a-half years in prison.
With no surviving family, he became a snake hunter in Takeo province, but after losing his arm, moved to Phnom Penh, where he now lives on the streets and begs for money from tourists.
"It's gotten worse here [since 2007], way worse," he said. "They [the government] don't give a damn about these people."
Cobra, who has fled the centre in the past by climbing over its low external wall, said he is already planning his next escape.
"If the guards snooze, they're going to lose me," he said, showing off two gold teeth as he smiled broadly.
Son Sophal, director of the Municipal Social Affairs Department, who met with Sovannaroth at the centre yesterday, insisted that "90 per cent" of the people held there are "mentally ill" and have no other place to go.
Despite the centre offering no formal mental health care, he said they were being detained for their own wellbeing.
"They don't know anything: They don't know where they have come from, who are they, where are they, so it is difficult to control them and take care of them," he said.
"We care about them so much. That is why we don't allow them outside of the centre.
Why do people accuse us of violating human rights when they are mentally ill and difficult to control?"
Sophal added that a new building dedicated to vocational training was being constructed at the facility, while plans to build toilets and improve access to clean water were under way.
People with ill health would be granted permission to go to hospital, while those who could prove they had relatives would be freed, he said.
Van Ngat, chief of staff at Prey Speu, echoed Sophal's claims, adding that detainees are not mistreated and are already offered vocational training opportunities.
"We want to train them but they do not want to be taught, so what can we do?" he asked.
During her visit yesterday, Sovannaroth said she was "panicked" by conditions at the centre.
"We are worried that keeping people here violates their human rights . . . [They] say there's not enough food, no training, a lack of hygiene, and a shortage of water. They say they are beaten, too."
Sovannaroth, who sits on parliament's Health Commission, said she will file a report about conditions in the centre to the Ministry of Social Affairs.
As officials and reporters left the facility yesterday afternoon, a group of detainees attempted to follow but were escorted back by security guards.
Some of the inmates stared out through the bars at their departing guests, while others returned inside, preparing to spend another night in a place many describe as "hell".
Contact PhnomPenh Post for full article
Post Media Co Ltd
The Elements Condominium, Level 7
Hun Sen Boulevard
Phum Tuol Roka III
Sangkat Chak Angre Krom, Khan Meanchey


12353

Phnom Penh




Cambodia



Tel: +855(0) 23 888 161 / 162
Fax: +855(0) 23 214 318