A woman named last month in a bizarre set of Facebook leaks purporting to show women bitten by Prime Minister Hun Sen's son Hun Many broke her silence on Monday in a bid to restore her reputation.
Her public statement reveals that while the premier's son might have been the target of leaks, the women splashed across social media appear to have paid a higher price for the breach than Many, who is also a lawmaker and president of the Union Youth Federations of Cambodia (UYFC).
Last month, a social media uproar erupted after Many's Facebook accounts were hacked and purported chats with various women were leaked. In some chats, women are pictured with purple bruises with teeth marks on their arms, apparently after interactions with Many.
On Monday, Sin Sakada, an actress who also works under Many at UYFC, took to Facebook to condemn "those who have dirty thoughts [and] attack me without consideration of my reputation".
"Last year at [His Excellency] Hun Many's birthday, he just playfully bit, he bit both men and women, and he was joking around with everyone," she said, posting photos of herself showing off the bruise with a smile.
"I did not do anything wrong, I am not afraid, I will reaffirm my purity," she said. "Vicious people manipulate and spoil my reputation at any cost in order to fulfil their dirty wishes."
Sakada's photos of her bruise in the purported chats are dated November 27 and 30, aligning with Many's birthday.
Many has remained silent about the leaks, even after social media users suggested the photos could indicate violence against women and former Cambodia National Rescue Party lawmaker Mu Sochua called on him to clarify the case – a call she repeated on Tuesday.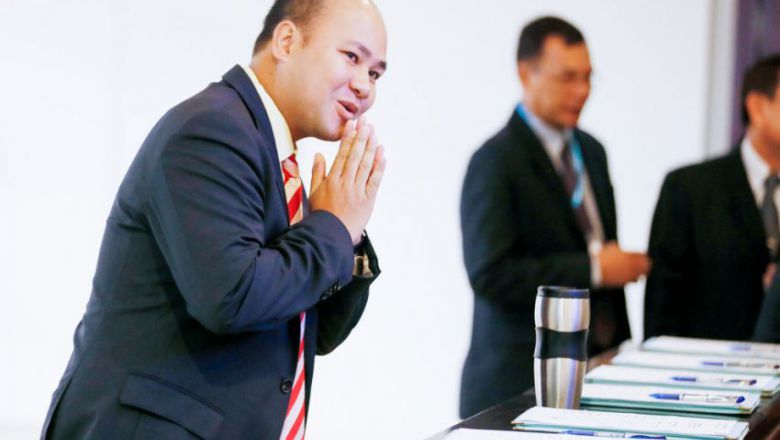 Many has not responded to The Post's request for a face-to-face interview, delivered on February 22, or to multiple subsequent requests for comment. Neither he nor Sakada returned calls or messages on Tuesday.
Sakada's post on Monday comes a day after – and appears to partly contradict – a post in which she said she loved and respected Many "as a brother", and asked journalists and others to stop prying into her private life, attributing the marks to a "skin problem".
"I have received the proper prescription," she wrote on Sunday.
With no political opposition to speak of after last year's forced dissolution of the CNRP, it is unlikely the social media furore surrounding the leaks will jeopardise Many's presumed re-election bid in July.
And due to the "strong support" of his family and the current political climate, he is also unlikely to be booted from a high spot on the ruling party's candidate list, according to social analyst Meas Nee.
However, Nee said the case "could damage the reputation of the prime minister and the party".
But "second wives" and mistresses are commonplace in the Kingdom, and sex scandals "never hurt politicians in Cambodia", according to political analyst Ou Virak.
"It didn't hurt [opposition leader] Kem Sokha, and neither did it hurt Hun Many . . . It likely won't affect anyone with or without his last name," Virak said.
For the women implicated, it's a different story. Social media users have accused them of sleeping their way to the top, and described them as "cheap" women or gold-diggers.
In a culture where victim-blaming and "compromising" in domestic violence cases remains rife, more often Cambodian women will be blamed and shamed while men will have some degree of immunity, said Gender and Development for Cambodia Executive Director Ros Sopheap.
"Women are always facing more damage to their reputation than men in general," she said, pointing out that women received unequal treatment in the legal system and had been assaulted or even killed if they were believed to be mistresses of the Cambodian elite.
"They always blame women . . . No one dares to hire her, and they do not dare to criticise the powerful people," she said.