It's late afternoon on Otres beach, and the tourists have turned their seats seaward to worship the sinking orange sun. They are here in droves every day, many relaxing with the cheap beer and liberally available marijuana joints that the beach can furnish. Shacks and bungalows stretch almost to the tide line.
It's a peaceful scene, but only on the surface. Since a fateful eviction note arrived on February 13, life on Otres has been "same same", but very different.
"Especially today, I came in and I could read it on everyone's face. We have to do everything we do every day but with this on our back," said Micky Drudi, who had poured himself a large glass of wine at the end of his shift at Papa Pippo – the popular Italian restaurant and bungalows he co-owns.
"People come and are like, 'So what's the news?'" he says, buzzing with anxious energy. "I've heard it already 100 times today."
The news is that the bulldozers are moving in. The two strips of land in Sihanoukville province known as Otres 1 and Otres 2, which lie 1.5 kilometres apart, and a section of Ochheuteal beach (not yet clearly defined) slightly further west, have been given exactly one month to erase all construction within 50-metres of the sea.
The impact is significant. The 50-metre boundary will erase all buildings on the beach side of the red dirt road that runs through Otres – all in, roughly a kilometre's worth of restaurants, bungalows and shops which provide – local officials estimate – about 1,000 jobs for the local economy.
"There will be 20 of us here with no jobs," said Lev Dany on Monday, whose eponymous restaurant on Otres 1 employs all seven of her siblings in some capacity, and several other relatives. The family doesn't know what will happen if they have to move, but they think it will involve seeking work abroad. Dany's sister, Kim, is clear that she doesn't want that to happen.
"I have been a housemaid in Malaysia before, and it is a very hard life there," she said. "We don't want to have to leave our country."
Since the fateful letter arrived two weeks ago, signed by Sihanoukville provincial governour Yun Min, Dany's restaurant has become a hub for community resistance.
Petitions have been sent both to the local governor in Sihanoukville, and to Phnom Penh – where Dany and her siblings decamped en masse with fellow protesters last week to petition Hun Sen to either delay or reverse the decision.
They hope that an upcoming visit by Hun Sen to a hospital in the province will provide another opportunity to voice their grievances.
But speaking to Post Weekend on Thursday, Governor Min said that, while he couldn't rule out slight delays to the March 13 deadline, the demolition would be going ahead in time for Khmer New Year.
"In general, the government's policy is not to fight or take action against the people, but we have to practise the law," he said.
Legal quicksand
When it comes to the law, the affected businesses know they are on shaky ground – the coastline is set down in Cambodian land law as state property, making it technically impossible for businesses or private individuals to possess titles to the land.
Locals were forewarned of the potential for disaster in 2010, when the 1.5 kilometres of beach that now divides Otres 1 from Otres 2 was razed of its huddle of beach shacks. According to Samuel Salvadores, who managed a venue on the now-empty strip, negotiations and bribes to the government had helped stave off eviction for more than four years, until one day "they showed up with bulldozers and AK-47s and built up a wall".
Now Salvadores co-owns two venues: Done Right guesthouse on the back road in Otres, which is safe from demolition, and Blame Canada bar on the beach, which is not.
If anything, the state is on firmer ground now than it was in 2010. In 2012, the government released Circular 01 on "The Development of Coastal Areas of Kingdom of Cambodia", which laid down an action plan for coastal development off the back of the country's admission to the "World's Most Beautiful Beach Club". It specified the boundaries of the "coastal right of way", and laid out a scheme for its beautification.
But what muddies the situation, and leaves businesses on Otres feeling aggrieved, is that for all practical purposes they have been functioning as legal entities. As well as the majority possessing tourism and business licences, all venue operators that Post Weekend spoke to this week said they either paid steep rent for their properties or had purchased the "soft title" to the land – a certificate of ownership signed at the local level.
Plots exchange hands for anywhere between $50,000 and $100,000, they said, with the original owners believed to be mostly military generals and police personnel.
Most owners said they were unaware of who had originally laid claim to the plot they were currently using, while those who rented were reluctant to provide the names of their landlords.
Sihanoukville provincial governor Yun Min denied that letting or selling arrangements could exist on Otres.
"It is not official that people could own or rent from police or authority because it is not legal to own the beach land," he said.
Bun Narith, a provincial coordinator for rights group Licadho, said the problem was that business owners would often pay rent to people who claimed to have titles to the land – a confusion which dates back to Cambodia's loss of land titles after the Khmer Rouge. He clarified: "In the law, those who sell the public land, it is illegal."
The financial burden of these murky dealings means that the closures will spell catastrophe for several local families.
Koy Chhay, the owner of Bamboo Bistro on Otres 2, said he took out an $80,000 loan from the bank to set up business on the beach two years ago. He has paid back only $10,000 over the past two years and says that if he loses his business he will be forced to take desperate measures to continue making repayments.
"I will have to sell my house," he said, looking deeply troubled. Chhay has been instrumental in rallying business owners on Otres 2 to protest the ruling. Sitting on Bamboo Bistro's terrace, 10 metres from the sea, he offered up an apt metaphor: "The water is up to under our nose, and if we wait any longer the water will choke us."
The first of many
If the government perseveres with its plans to rid the coastline of illegal encroachment, the situation on Otres looks likely to play out elsewhere.
"After the Cambodian beaches became a member of the Beautiful Beach Club, the committee set Otres as the pilot beach," said Nou Sohpal, director of the Sihanoukville Department of Tourism.
Douglas McColl, vice-president of the Sihanoukville Tourism Association, said the implications could be huge."The law quite clearly applies to the whole Cambodian coastline. It's just a matter of timing. Otres is first," he said.
While the businesses along Otres are mostly small-scale holdings, Cambodia's coastline features a significant number of expensive construction projects, including the Independence Hotel Resort and Spa, and the Sokha Beach Resort Hotel.
Both are advertised on booking websites as boasting "private" beaches, and the Sokha hotel features a smart restaurant that juts out so far onto the beach that it is hard to circumvent on foot at high tide.
What will happen to these more prestigious sites remains unclear.
Provincial governor Yun Min assured Post Weekend that there was a plan: "We will control those places and take action," he said of the big hotels, but would not be drawn on how or when this would happen.
But Minister of Tourism Thorng Khun said that he thought the situation further down the coastline was satisfactory: large owners were better environmental caretakers, he said, and public access had been negotiated on the "private" beaches.
"For example, the Sokha hotel allows normal people who are not their guest to visit the other side of the beach. They should not go to visit the luxury part of it too," he said.
Last-ditch negotiations McColl from the Tourism Association cautioned that whatever solution was found, it would have to be implemented in a way that did not breed resentment.
"They're going to have to make transparent which people are required to do this, and for those who aren't ... that's something that's going to have to be very carefully thought through."
On Otres, business owners say they always accepted that the time to move would eventually come. But they are angry – firstly because of the lack of warning, and also because they feel the government is appropriating land that they have made valuable.
"No one wanted to live here," Bamboo Bistro owner Chhay said of the early 2000s – when the entrepreneurial vendors first trickled in.
Over the past decade, amenities on Otres have been playing catch-up with the burgeoning economy of the area, with a new road, electricity and water all provided in response to local demand.
"Why has the government been making us build this thing up and now they want to kick us out?" Chhay questioned. "It's not fair at all."
They also feel aggrieved by the government's suggestion that they are not taking care of the beach, insisting that rubbish and sewage are all correctly disposed of.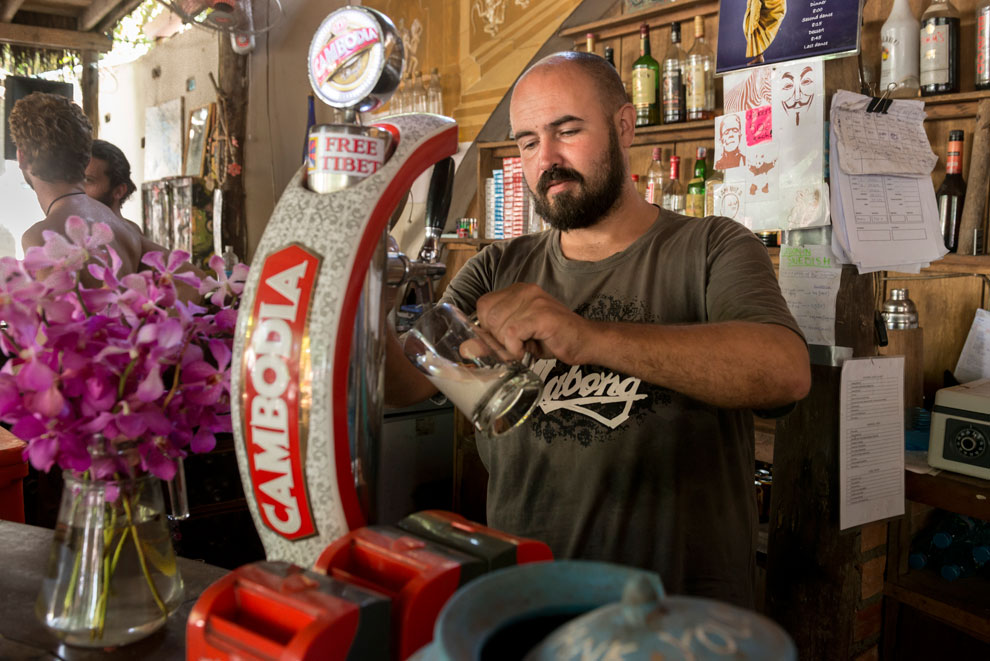 At Dany's, the sisters have seized the initiative by touring the province's other beaches and taking photos that highlight the amount of rubbish that piles up on stretches of coastline where people aren't allowed to build.
Scrolling through photos and video clips stored on her smartphone, she explained: "I want to make some movie, although I don't know how to put a movie together. But I'll find someone to put it together."
Alternatives presented to the government by beach businesses have offered up three potential options: the provision of government standards that could be followed without moving off the beach, the provision of an alternative location, or – failing that – a delay until after the next election.
"I think a new government maybe will make development good for the people," said Ek Vithean, one of the community organisers. But, he added hastily, "We don't think about the politics. Hun Sen is a strong man, so we support him for now."
Along the beach, vendors are pushing hard to maximise profits during perhaps their last fortnight hawking cut fruit, boat trips and sandy manicures. No two people agree on what can or should happen next. The most commonly voiced appeal is a modest one: a grace period lasting until the end of the season.
By the deckchairs at Greenhouse, one of the newest restaurants on the beach, one of Otres's resident Indian fortune tellers leans down and makes a prophecy, perhaps no less accurate than the melee of rumours being exchanged by backpackers further up the sand.
The beach will not close, he says, it will be modified. Bungalows will be forced to move back, and more people will be able to access the beach – a good thing. "The people will make it very beautiful," he says.
He nods, scans the seafront for his next customer, and asks for $20.
Contact PhnomPenh Post for full article
Post Media Co Ltd
The Elements Condominium, Level 7
Hun Sen Boulevard
Phum Tuol Roka III
Sangkat Chak Angre Krom, Khan Meanchey


12353

Phnom Penh




Cambodia



Tel: +855(0) 23 888 161 / 162
Fax: +855(0) 23 214 318