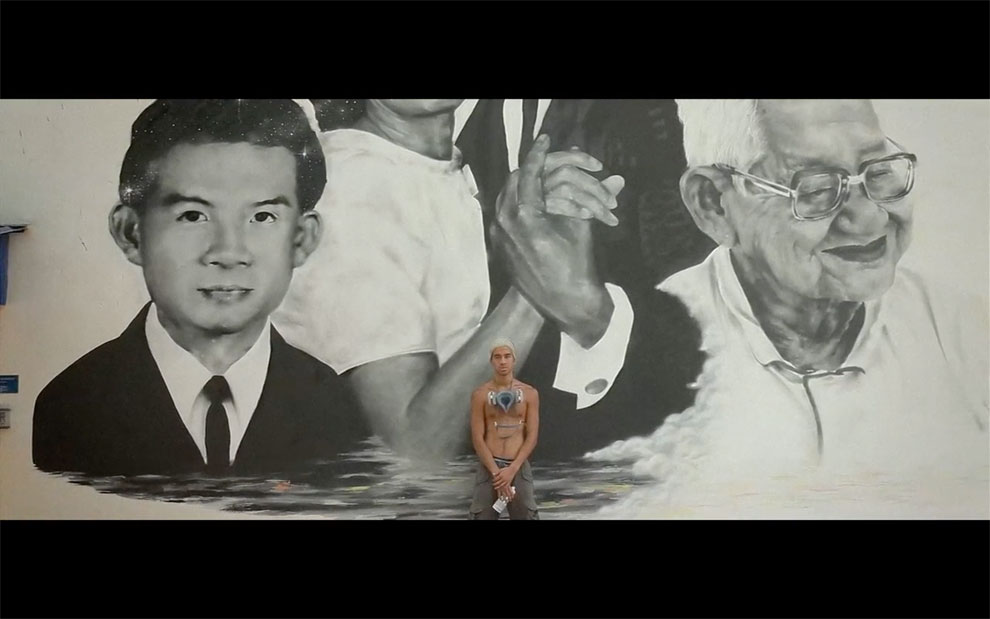 New documentary raises a question: Do Cambodians overseas owe a duty to their homeland?
In the trailer for the documentary The Roots Remain, the subject of the film, Canadian-Khmer graffiti artist Fonki Yav, delivers a call to action to the Cambodian diaspora.
"Those that are returning are needed," he says over a rousing baroque choir. "Cambodia is calling them back ... She's healing. And us, we're part of that healing process."
The film, which will be screened at the Cambodian International Film Festival in December, focuses on Fonki's return to the Kingdom, where he meets with members of his extended family and explores Cambodia's burgeoning hip-hop community.
Co-director Andrew Marchand-Boddy said that along with documenting Fonki's experience, he hoped the film might encourage overseas Cambodians to follow his lead.
"[W]e hope that our film will inspire more Cambodians to return and try to make a difference in people's lives as well," he said by email.
But to what extent, if any, do overseas Cambodians – many who left the Kingdom as young children during the tumultuous periods immediately before and after the Khmer Rouge – have a duty to return and lend a hand in Cambodia's renewal?
"I think we do have a moral obligation to contribute," said Ou Virak, a political analyst whose family fled to the US in 1984 when he was eight years old. "You don't have to come back, but you can find ways to contribute."
Virak, who is now 39, received most of his education in California.
"It was actually one of the reasons why I decided to come back," he said. "If you've got a better education, you can come back and help and make a huge difference to the country."
Others said that they also felt compelled to come. Lee Ea, 43, the sharply dressed managing director of Phnom Penh's Maxem Real Estate, left Cambodia with his family as a four-year-old in 1975, two days before the Khmer Rouge took the capital, and grew up in Baltimore and California.
The youngest of six, Ea was given a middle class upbringing, "as normal as a kid could grow up with in the US".
At the University of California, Riverside, he earned a college degree and afterward took a job with Sony in Manhattan, which he held for eight years.
After the traumatic events of 9/11, which Ea witnessed through his Manhattan apartment window, he began to think seriously about his future and what he wanted out of life "before settling down".
"I thought about where I wanted to go, and of course I thought about Cambodia," said Ea at the fourth-floor office of his firm, which employs mostly Cambodians.
He had heard much about his homeland as a child, he said, through stories from his father, but he knew little of its complexities.
"I had romanticised it," he said. "I did feel some obligation to help out here. I'd feel surprised if the other returnees didn't feel that as well if they were able to go and get those advantages that other people [here] couldn't get."
But not everyone feels the same way. One 33-year-old Khmer-American, who has worked in marketing and communications here for six years and spoke on the condition of anonymity, said it was "absurd" to think that Cambodians abroad were in some way obliged to return to Cambodia.
"The logical consequence is that those who do not 'come back' are somehow failing on a moral level," he said, adding that he came here, "to work in Asia".
"At the same time, I'm also wary of people from abroad who come here with no experience or qualifications because of some abstract moral or messianic complex – ethnic Khmer or otherwise," he said.
It was a sentiment echoed by Soreasmey Ke Bin, 38, a Cambodian-Frenchman and founder of Anvaya (Sanskirt for "lineage"), an independent organisation based in Phnom Penh that assists overseas Cambodians who move back to the Kingdom, offering workshops, Khmer-language classes and a network.
With 250 members, the group is about 70 per cent French-Cambodians and mostly business people.
"What we do think is that the diaspora has a role to play toward Cambodia's current and future development, and that to do so we need more qualified and committed individuals to return, and to return successfully," Ke Bin said from his BKK1 office.
With short, slickly combed hair and bookish glasses, Ke Bin described two types of returnees: humanitarian volunteers, who "give one or two years of their life to Cambodia" and "people like me, coming for good [with] a long-term view".
"We create businesses; we get a job; we share our experiences, our knowledge," he said.
Ke Bin, who has a wife, children and a golden retriever here, said that a recent survey by Anvaya found that overseas Cambodians that came tended to identify themselves as occupying a middle ground between expat and local.
"Seventy one per cent [of 120 respondents surveyed] said they identified as overseas Cambodians – not local, not expat," he said, adding that 34 per cent said that they came for a personal "identity search", and 30 per cent of "returnees" came to contribute to the development of the country.
Sophal Ear, an associate professor of world affairs at Occidental College in Los Angeles, fled Cambodia with his family during the Khmer Rouge when he was a child. He said that while he felt it was a "moral duty of Cambodians abroad to give back" to Cambodia, it was not imperative to return. For him, helping Cambodia could be done more effectively abroad.
"I can do more from where I am in America, as a tenured professor, to speak truth to power, than I could in Cambodia," he said.It was an opinion shared by Fonki as well.
"You don't necessarily need to physically be in Cambodia to have an impact on it," said the artist. "But it sure helps a lot by going back to the country and doing stuff locally in Cambodia."
Contact PhnomPenh Post for full article
Post Media Co Ltd
The Elements Condominium, Level 7
Hun Sen Boulevard
Phum Tuol Roka III
Sangkat Chak Angre Krom, Khan Meanchey


12353

Phnom Penh




Cambodia



Tel: +855(0) 23 888 161 / 162
Fax: +855(0) 23 214 318