CP Fresh Mart has joined Cambodia's food retail sector with two outlets — in Siem Reap and Battambang — offering consumers another option to buy locally grown fresh produce and ready-to-eat products.
The two marts – located in Prek Mohatep village in Svay Por commune, Battambang and St Lok Taneuy, in Slor kram commune's Dokpo village in Siem Reap – offer high-quality finished foods, fresh meat and vegetables, and groceries.
CP Cambodia Co Ltd – under the flagship of Thai leading agro-industrial and food business CP Food – launched the retail stores to promote quality, fresh products at affordable prices – selling both wholesale and retail. CP Fresh Market is a large supplier and distributor of items ranging from pork, chicken, eggs, vegetables and finished products.
CP Cambodia deputy department manager Sat Borey said the company is committed to expanding its CP Fresh Mart business to meet the needs of the evolving local market, which demands fresh and quality food products.
"CP has expanded its fresh mart business by focusing on supply and distribution of all high quality CP products, both at wholesale and retail. If we eat good, we can live a healty life.
"Our products come with good quality and meet all hygienic standards, and we provide a good service to our customers, whether they are purchasing for their own consumption or to resell, and our prices are competitive, similar to the prices in the local markets. "We have a strong support from our our customers and CP Cambodia plans to epand its fresh mart to other provinces in the future," said Borey.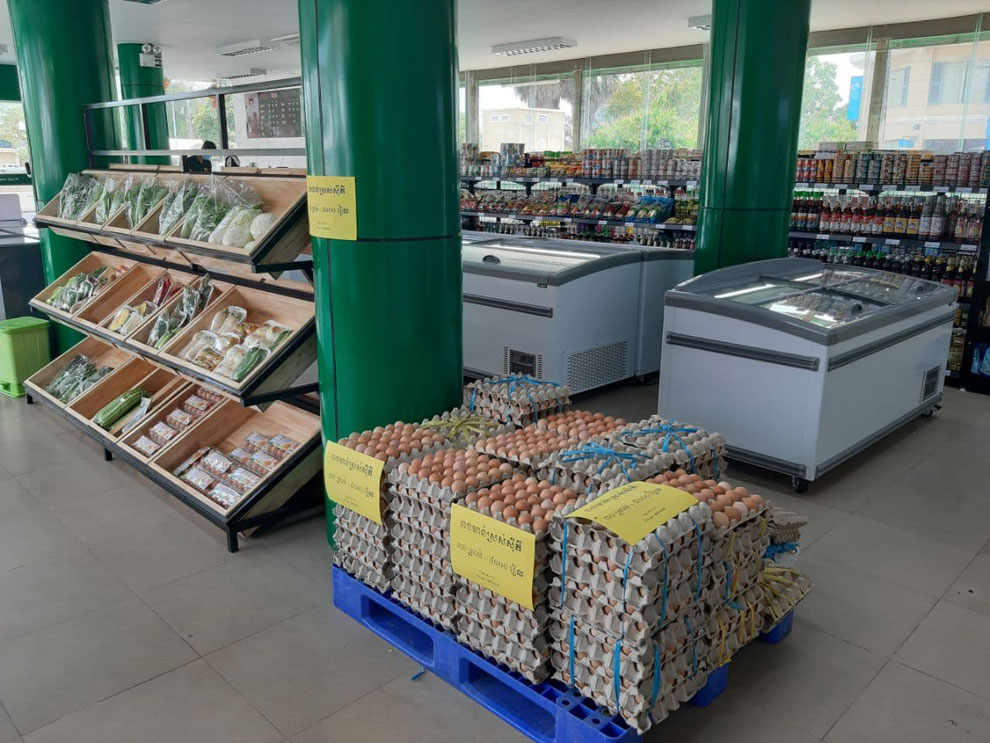 It business operations are in line with its parent company's "Kitchen of the World" philosophy, which centres on sustainable development by giving top priority to local development, livelihoods and the environment.
In 2020 it branched out into food retailing to serve the growing demand for modern retail outlets to serve the changing lifestyles of customers who prefer to shop conveniently in a hygienic environment.
At CP Fresh Mart customers can select products that are produced using modern farming in Thailand and Cambodia using the minimum of chemicals.
Both marts also offer ready-to-cook foods and ready-to-eat food like sausage, ham, bacon, frozen and dim sum.
A regular customer, housewife Pok Sophorn from Battambang, said "all products sold in CP Fresh Mart are of good quality, fresh, hygiene and reasonably priced. In the store products are well organised and it is easy to walk around, and staff are very friendly too."