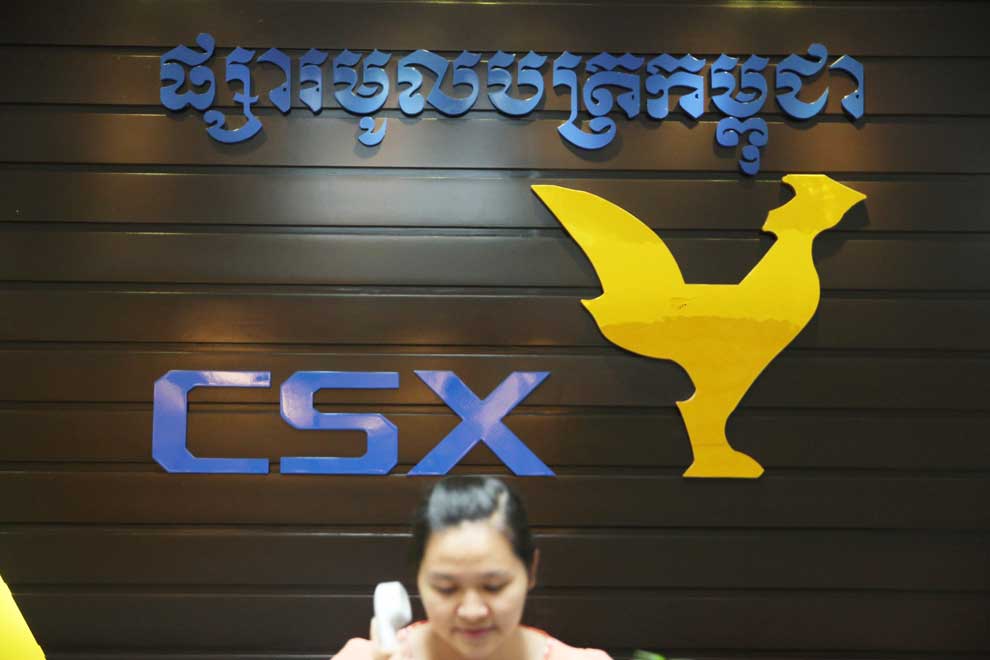 Cambodia's business community welcomed the news yesterday that the county's longest-ever parliamentary deadlock had come to an end – a resolution investors say will help ease fears of political instability.
The ruling Cambodian People's Party and the opposition Cambodia National Rescue Party yesterday struck a deal that will see the CNRP take its seats in the National Assembly as early as next week, after its lawmakers-elect are officially sworn in.
"With the big news this afternoon, Cambodia will win back all listed stability and of course will attract more investors who currently are waiting," In Channy, CEO of Cambodia's largest financial firm, Acleda Bank, said after hearing yesterday's announcement.
The CPP was declared the winner in last July's national elections, claiming 68 seats to the opposition's 55. The CNRP immediately rejected the results – alleging widespread election irregularities – before boycotting the opening of the National Assembly in September.
Channy said the political uncertainty that ensued dampened interest in Cambodia as an investment destination.
"Before any investment decision or expansion of investment, investors always rely on three aspects of stability: political, economic and social. Before the general election in 2013, Cambodia used to have all three of these stabilities. But after the election in 2013, Cambodia nearly lost its political stability entirely," he said.
Since the onset of the deadlock, Acleda's deposits have grown markedly, up 40 per cent, while loans have seen slower growth of about 23 per cent, indicating that business was less inclined to spend.
"The political conflict of the past 12 months has discouraged investors from aggressively investing, choosing instead to place their savings and deposits with the bank," Channy said.
Chris Hobden, surveyor for global commercial real estate firm CBRE, echoed that sentiment yesterday.
"Whilst regionally Cambodia remains comparatively politically stable, the ongoing deadlock between the CPP and the CNRP has evidently been detrimental to foreign investment," he said, adding that it was too early to predict how significant an impact yesterday's break-through would have on foreign direct investment.
ANZ Royal CEO Grant Knuckey saw the investment tap opening again on the back of the resolution, which he said would have positive ramifications for economy at large.
"The main impact will be on confidence, and hence investment and hiring decisions," he said.
"That should feed through over time to consumption and the broader economy."
While foreign investors may have been more reserved in their commitment during the yearlong period of uncertainty, it has been business as usual for the day-to-day operations of most smaller-scale companies, according to Te Taing Por, president of the Federation of Association for Small and Medium Enterprises.
Taing Por welcomed the pact, however, believing it will encourage SMEs – which make up the majority of the country's businesses – to expand their existing activities.
"Before [yesterday's decision], we needed to think about our production and the political situation, as the disagreement gave us a little concern," he said. "But now, we can just concentrate on our production."
Accounting for more than 70 per cent of Cambodia's exports and employing roughly 600,000 people, the garment sector stands to be one of the first industries to see gains from political stability.
"It's a good sign for everybody; for potential investors, for existing investors – the whole package," Ken Loo, secretary-general of the Garment Manufacturers Association of Cambodia (GMAC), said. "Investors need stability and this should be construed as a step in the right direction," he said.
The CNRP had been active in engaging workers and unions throughout the industry's minimum wage dispute. Asked if the opposition's move to the National Assembly would impact ongoing wage negotiations, Loo was adamant it would not.
"The CNRP has been in the background shouting numbers and figures, but that is more towards the ruling party as a government more than employers," he said.
Meanwhile, in Cambodia's rice sector, which directly or indirectly provides income to more than 80 per cent of the country's population, officials too said yesterday's announcement was a positive starting point, but warned there was still a lot of work to be done.
David Van, acting secretary-general for the Cambodia Rice Federation, said he hoped the agreement would bring greater accountability of parliamentary leaders and encourage further debate over laws that impact the economy before they are passed.
"The rice sector is pleased with the political deadlock being unlocked and looks forward to working with all sides of the political spectrum to improve farmers' livelihoods and improve the performance of the industry," he said in an emailed statement.
Following last year's election, the Ministry of Commerce announced a raft of reforms targeting corruption and red tape. Aimed at boosting investor confidence, changes ranged from the automation of export procedures to public sector employee bonus initiatives designed to curb corruption and nepotism.
Delivering on those reforms should be high on the parliament's list of objectives in order to foster business confidence, said Clint O'Connell, a tax partner with Phnom Penh-based VDB Loi.
"We understand that the government has already embarked on a large reform program, which encompasses most government departments post-election 2013," O'Connell said. "It is hoped that including more input in the lawmaking process will only serve to strengthen these reforms," he added.
Contact PhnomPenh Post for full article
Post Media Co Ltd
The Elements Condominium, Level 7
Hun Sen Boulevard
Phum Tuol Roka III
Sangkat Chak Angre Krom, Khan Meanchey


12353

Phnom Penh




Cambodia



Tel: +855(0) 23 888 161 / 162
Fax: +855(0) 23 214 318