The 14th Indonesia Trade & Tourism Promotion (ITTP 2023) opened its doors today at Koh Pich, Phnom Penh.
The event was hosted by the Indonesian embassy and presided over by Chhuon Dara, Minister Delegates attached to the Prime Minister and secretary of state of the Ministry of Commerce, Thong Rathasak, secretary of state of the Ministry of Tourism, and Tean Samnang, Cambodian ambassador to Indonesia.
With the theme "Strengthen Cooperation Through Collaboration," ITTP 2023 aims to enhance bilateral cooperation between Indonesia and Cambodia, particularly in the realms of trade, tourism, higher education, art and culture.
Lauti Nia Astri, charge d'affaires ad interim of the Indonesian embassy, declared the intention of both nations to foster strong ties. The event saw the participation of Indonesian business and higher education representatives, who sought to solidify Indonesia's position as a reliable economic partner.
"We will continue to demonstrate our commitment to helping improve Cambodia's education sector," said Nia Astri, while highlighting the importance of bilateral collaboration in the areas of education and skills development.
She added that the presence of more than 40 Indonesian exhibitors also holds political significance, as it contributes to strengthening diplomatic relations between the two countries.
During the opening ceremony, Astri declared that Indonesia and Cambodia share a symbiotic relationship and can complement each other's growth and development. Indonesia serves as a strategic partner in Cambodia's progress and development across various sectors.
Dara also addressed the ceremony: "Cambodia's economy has experienced robust, sustainable, and environmentally conscious growth, averaging about 7 per cent annually over the past two decades."
"This transformation has taken the country from a state of poverty and internal conflicts to one of Asia's fastest-growing economies," he added.
He described how the nation's economic successes could not be solely measured by high growth rates, but also by substantial economic restructuring. Cambodia has shifted from a predominantly agricultural-based economy to one that relies on a combination of agriculture and services.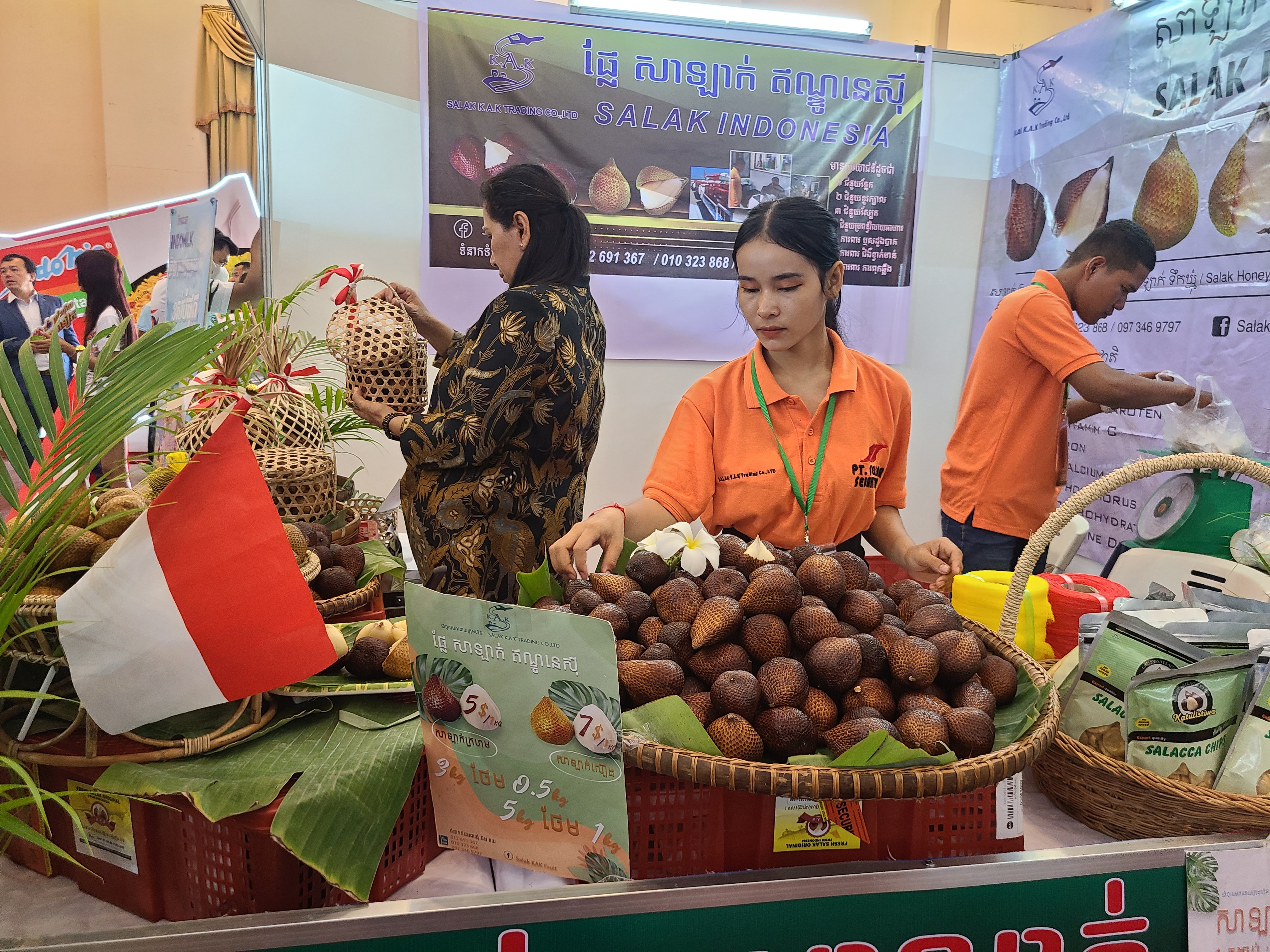 "This economic diversification has played a crucial role in bolstering Cambodia's economic resilience and creating new opportunities for its people," he said.
"As the country continues on this trajectory, it remains focused on maintaining sustainable growth while fostering a thriving business environment," he added.
Dara said that in 2022 Cambodian imports from Indonesia accounted for approximately $911.69 million, a significant increase of 51 per cent over 2021. The Kingdom's exports to Indonesia reached approximately $36.839 millions, a growth of 16 per cent.
The products imported from Indonesia included tobacco, coal, grain, tractors, pharmaceuticals, machinery, aromatic oils and artificial graphite.
Cambodia exported garments, footwear, woven fabrics, suitcases, paper, glass, electronics and plastics, among other items.
According to the Indonesian Ministry of Trade, the total value of trade between Indonesia and Cambodia in 2022 amounted to $788.3 million, a significant increase of 35 per cent compared to the previous year.
Astri noted that both countries had witnessed substantial growth in their imports and exports during the same period, further bolstering economic ties.
The tourism ministry's Rathasak offered welcoming remarks to the attendees of ITTP, and commended the efforts of the Indonesian embassy and all exhibitors for successfully organising the event.
He extended his appreciation for the joint promotion of trade and tourism between the two countries, and remarked that 2023 saw the 64th anniversary of their diplomatic relations.
He mentioned the ongoing "Visit Cambodia 2023" campaign, and noted the Kingdom's successful hosting of the 32nd SEA Games and 12th ASEAN Para Games, which showcased the country's capacity to host international events.