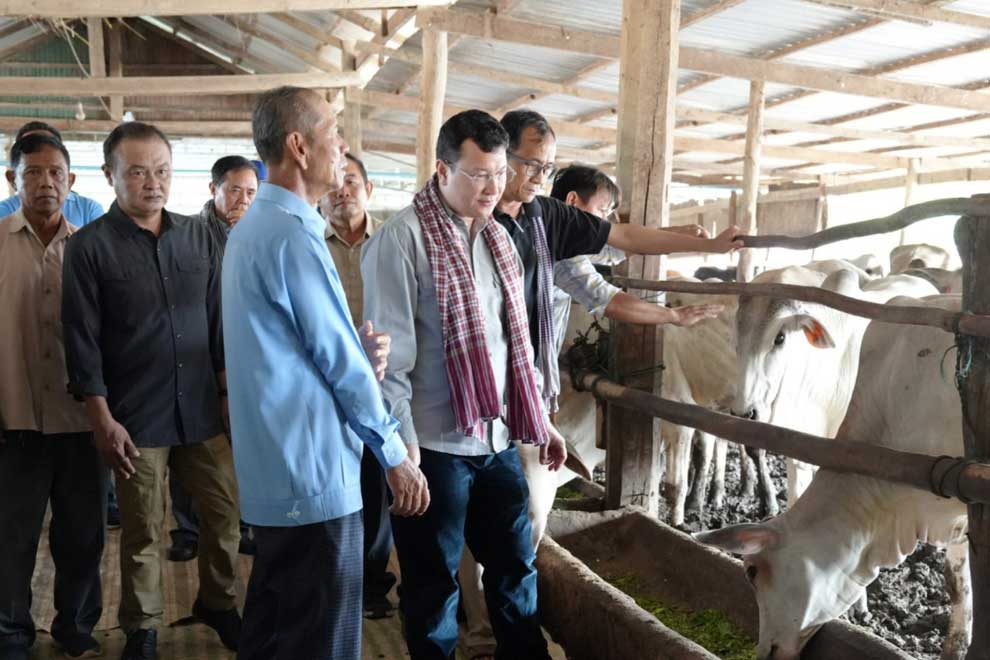 Visiting cattle farms in Tbong Khmum province's Dombae district on July 2, agriculture minister Dith Tina prompted farmers to evaluate their economic viability and expansion strategies in the cattle business.
Adding to this, the minister counselled increasing trust between buyers and sellers while considering cattle health and quality, discouraging ceaseless expansion.
"Please mull over your financial sustainability and plans for expanding cattle businesses. Factor in strategies and capacities to cultivate cattle feed, scrutinise market demands and minimise unneeded expenses," he said to the assembled farmers.
Tina emphasised collaboration and the use of agricultural contracts in transactions.
Huot Leang, a cattle farm owner in the province, expressed gratitude for Tina's attention to his farm and the province's cattle farms.
Leang narrated his prosperous journey in the cattle business, netting a yearly profit of $50,000 to $60,000. Originally, he raised a mere seven cattle. Now, his herd comprises up to 780 cattle, most being white and red Brahman. Additionally, he's planted 13ha of grass.
"Do not simply rear cattle; instead, allow them to freely graze in the fields. But they must be vaccinated and dewormed. Implement biosecurity measures, keep them clean and well cared for, thereby promoting their growth. This way, cattle are less prone to illness or death," he advised fellow farmers on July 3.
Ket Saren, Cambodian Cattle Expert Club (CCEC) member, argued that despite ceasing the use of cattle to plough rice fields, rearing them for sale remains a popular business in some provinces. However, market uncertainties have led breeders to cut back on their care, fearing that the more attention they provide, the greater the loss.
"Brokers often undervalue cattle and their breeds when buying from farmers, which depresses prices. Despite this, most farmers realise that high-quality cattle breeds produce delectable beef. Hence, most farmers sell their cattle to slaughterhouses at a reasonable premium," Saren commented.
A report by the Ministry of Agriculture, Forestry and Fisheries disclosed that in 2022, about 652,000,000 cattle were slaughtered for meat, a surge of 8.8 per cent from 2021. Among them, 265,600,000 were commercially raised, an increase of 41 per cent.