After consistently struggling to locate parts for their various engineering projects, a team of talented students from the Royal University of Phnom Penh's computer sciences department came up with an enterprising solution – building their own 3D printer.
The team's mechanic Bong Rorng proudly stands next to a selection of models produced by their homemade 3D printer – including a purple plastic Eiffel Tower replica and a miniature yellow Angkor Wat Temple – in a classroom at the university.
The 23-year-old from Kampot province tells The Post: "Seeing the challenges faced by our fellow students in finding parts to create something new and complete class experiments, my teacher gave us the idea of making a 3D printer. He considered it a practical solution for the hurdles we were facing in our studies."
The nine-strong team consists of Rorng as mechanic, along with four programmers, two electronic technicians and two graphic designers – all aged between 18 and 23.
Their hand-made 3D printer received a lot of praise when it was displayed last month at the Kingdom's first Digital Cambodia 2019 Conference and Exhibition at the Diamond Island Exhibition Hall in Phnom Penh.
Though it is certainly more rough-and-ready when compared to commercial machines produced by global tech companies, the team hopes it will prove invaluable to fellow students as they begin producing components needed to build robots that are otherwise unavailable in Cambodia.
Now in his third year of study, Rorng – who is the team's leader and oldest member – says the university currently has to spend a lot of money ordering printed models and parts from overseas.
He adds that school projects are held up when his team is forced to wait for missing parts, if they are able to afford the parts at all.
After his teacher proposed the 3D printer solution, Rorng and his team began building the machine from scratch.
The team's only female member, Hoh Leakhena, was responsible for designing the machine. While the team's four programmers – Chea Senghour, Sam Soklay, Uk Entabot and Pon Sochea – developed the code.
Ironically, without a 3D printer, the team was forced to order many of the parts to build the machine from overseas, costing them between $160 and $180, funded by the school.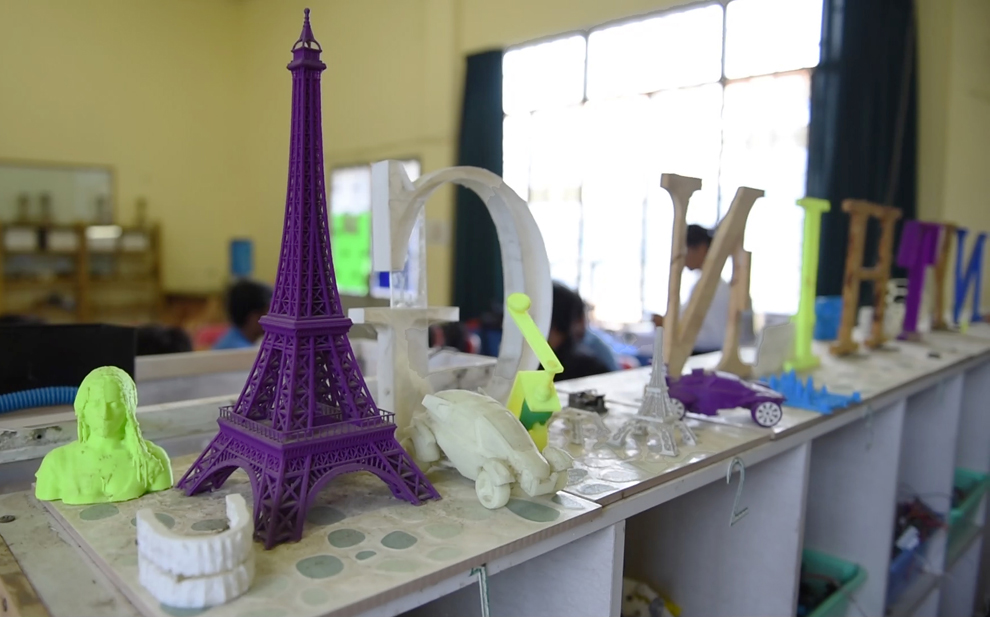 The process took them three months, of which more than a month was wasted waiting for small parts to arrive from China – reaffirming the reason why they embarked on the project in the first place.
"The most difficult period while making the 3D printer was when we were forced to wait for parts to arrive. It was a long and complicated process."
"We almost gave up, but we assessed our unfinished work and gathered the willpower to continue. Our teacher was also a great encouragement for us to succeed in the project," Rorng says.
While they have not fully explored the full capabilities of their 3D printer yet, they have successfully printed toy cars and small plastic statues so far.
Rorng says their creation is currently only able to print objects that are 20cm by 20cm.
At the university, the machine is set to be used to print hands, heads and feet for student's robots that will be submitted to national and international robotics competitions.
Students from the university's computer sciences department have previously made small robots operated through smartphones, as well as remotely operated household security systems.
They hope that, with the help of their new 3D printer, they will also be able to create bigger and more sophisticated devices that can be put to work in smart factories, industrial product chains and in agricultural contexts.
"I want to work in the robotics field to create local electronics products. It can be beyond this 3D printer. Everything about making robots is an important part of my future," says Rorng, who was raised in a family of farmers.
Pok Leakmony, the department of computer science's deputy head, says that the Kingdom is currently lacking skilled professors in the field of digital and tech innovation, but adds that with innovative
students such as Rorng and his team, the future looks brighter for Cambodia.
"Regardless of how lacking we are currently, I can consider the achievement of my students as a source of pride for our school. We've strived to train our students to build their capacity in this field," he says.
"Our young people are smart and talented. They're good programmers and coders. We're only lacking some equipment that needs to be ordered from abroad. If we support and help pave the way for the young generation, our industry will be prosperous.
"I strongly believe with support from the government and the Ministry of Education , Youth, and Sports, our tech and digital sector will growth fast in the future."
The team is now busy designing and building another robot for the Robocon Cambodia National Robot Contest 2019, set to be held in the capital on April 27.
They are also considering taking Cambodian robotics to a global audience and making a push to enter the World Robot Olympiad 2019, a highly competitive annual international robotics competition set to be held in Hungary in November.
"I want to show the world that Cambodia also has talented students who can create and innovate something in the tech world.
"Young people who dare to create something new also need a little motivation to keep going, and showing our products to the world is just that," Rorng says.