When it was forced to close from March 18 to May 4 due to the impact of Covid-19, contemporary art gallery, Sra'Art came up with some creative ideas to engage the public and art lovers from home.
The social distancing activities that Sra'Art has brought to its home-based audience included a visual gallery on Facebook and Instagram, artist talks through videos, active social media posts, and an art photo challenge that people could explore and recreate the best of art right from their homes.
The latter proved very popular and the gallery, which just reopened on May 5, decided to continue the photo challenge until the end of this month.
Because most of the photo submissions for the Sra'Art Challenge were recreated from the "Women of the World" or WOW exhibition, the gallery also extended the closing date of the exhibition which started in March.
Gallery director and founder Cecile Eap was excited to welcome visitors back with more engaging activities than before as she thought of ways to take art to the people if they cannot visit the gallery.
"Since visiting an art gallery is out of the question, we came up with a creative way to keep art lovers occupied — by challenging the audience to recreate famous artwork at home," Eap tells The Post.
The French-Cambodian founder continued to promote the new photo challenge called #sraartchallenge which is inspired by the Getty museum – the world of art, research, conservation and philanthropy started by the J. Paul Getty Trust.
The photo contest encourages audiences to use their imagination and easily available materials that they can find to imitate the posture and recreate the scene in one of their favourite art pieces.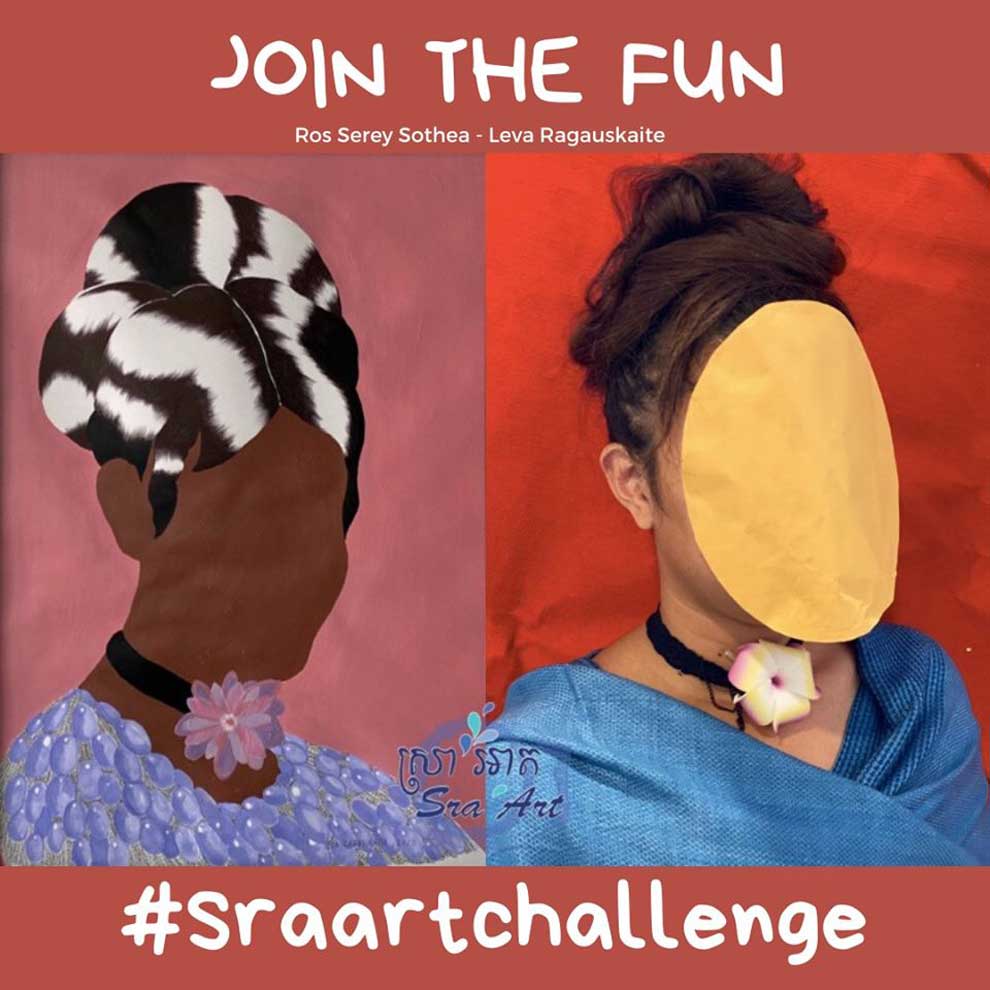 "To join the challenge you just have to pick an artwork (painting or photograph) from a Cambodian artist (or Cambodian resident artist) and recreate it with your imagination and whatever materials you have at your disposal.
"Then send us the photo of the original art with the one you recreated or post it on our wall with the hashtag #sraartchallenge," Eap says.
Many of the photographs submitted imitated the posture and scene from the WOW exhibition.
To imitate the acrylic painting by Cambodian self-taught artist Rena Chheang, a participant was seen sitting on the floor with a scattering of paper cut-out sunflowers and household utensils.
Her face was covered in oval-shaped cut paper, bearing the resemblance of the faceless woman in the painting by the artist's Nude Series 2019.
The fun and entertaining contest only just started a few weeks ago, but noticeably it has amazed art lovers and drawn an increasing interest of audiences as a lot of challenging photos are already posted on Sra'Art Facebook page.
This challenge will come to a close at the end of May. It has proven popular among Sra'Art's regular audiences and the public. The three most popular posts will be awarded a free Sip and Paint session (worth $25) at Sra'Art, including canvas, paintings, wine and other support from a student from Royal University of Fine and Arts (RUFA).
Having travelled a lot before establishing the commercial contemporary art gallery in Phnom Penh in October last year, Eap has also noticed increased interaction from audiences after setting up some indoor activities as some might not come directly to the gallery.
These activities have connected audiences with artists. Art lovers can listen to the artists' inspiring stories, discussions about art, and future projects.
The gallery also organised a multimedia exhibition with a mix of paintings, paper cuts, photo collages, and even ancient paintings.
Similar to the tour at the Sra'Art gallery, the audience can enjoy an online tour at home because there is always one artwork that would have been posted on social media daily.
Also, the audience can send their questions to the artist and their curiosity will be answered in later videos.
After the reopening on May 5, Sra'Art gallery still amazed visitors with a live painting from the current exhibition to paint on accessories (coffee mugs, water bottles, shoes, sunglasses cases, phone covers etc.) by many artists.
The WOW exhibition will be on until the end of May because many Sra'Art photo challengers opted to imitate the works from this exhibition and many people have no chance to see these remarkable paintings yet.
There are nine talented women artists with a long-lasting and unique relationship with Cambodia. Rena Chheang and Kanha Hul (Cambodian), Lauren Iida (American-Japanese) from Open Studio Cambodia; Ji Young (Korean); Phailin Cadiot (Thai-French); Helen Sea Ung (Cambodian-French); Isabella Myers and Jenna Hang (USA); and Ieva Ragauskaite (Lithuania).
"We are still displaying photographs, painting or mix media projects depending on the artists. To celebrate International Women's Day, we launched the Women of the World (WOW) exhibition from March 7.
"The exhibition showcases a selection of artworks by only women artists from various backgrounds and creative expressions. Each of them has expressed a deep connection to Cambodian traditions, stories of women's challenges and empowerment," Eap says.
The women artists consider the Kingdom as their home, having lived here for many years. Through their work, they have discovered the inner power inside Cambodian women who are strong and unwavering, no matter what situation they are confronted with.
As a former producer, Eap believes that it is important to engage with locals and help change the mindset around art. Her task is to encourage people, especially Cambodians to attach themselves to art.
"We are the only commercial art gallery in Phnom Penh at the moment. We are hoping to show people that art has always been a part of Cambodian culture, but because of its cruel past, art has taken time to return to the limelight."
"We also expect to become a reference point for Cambodian art and artists, to be part of the change and help Cambodians to be proud of their cultural heritage from the past to the present," Eap says.
Sra'Art is located close to the National Museum and Royal Palace. It is two doors down to Wat Ounalom on Sothearos Boulevard. Please visit Facebook page (@sraartstudio), Instagram account (@sraart_studio) or website (www.sraarstudios.com) ?or call 081 461 711. The gallery is opened from Tuesday to Saturday.