Ahead of the 2020 Cambodia National Rugby Championship on October 31 at RCAF Old Stadium, robots created by 10 college teams showcased their ability to pass and shoot in front of a crowd of about 400 facemask-wearing spectators who greeted each goal with cheers and applause.
The 7th national Robocon Cambodia took over Dombol Tuk Hall at the Royal University of Phnom Penh on October 3 with Minister of Information Khieu Kanharith and Minister of Education, Youth and Sports Hang Chuon Naron in attendance.
According to the event's organiser Pang Chamnan, teams of two robots faced off in three-minute rugby-style contests. Teams were awarded points for scoring tries and completing goal kicks.
"This year we have 10 teams from six different universities and institutes. Each team consists of between three to seven members," Chamnan says.
The Royal University of Phnom Penh, the Institute of Technology of Cambodia, the National Polytechnic Institute of Cambodia (NPIC) and Preah Kossomak Polytechnic Institute sent two teams each to the contest while the National University of Management and National Technical Training Institute sent one each.
After four rounds of competitions, the NPIC teams finished first and second.
Chamnan says: "The first winning team, called NPIC02, received 1.2 million riel ($293) and the second winning team, NPIC01, got 800,000 riel.
"In the final round, two teams from NPIC went head-to-head. NPIC02 earned 95 points and NPIC01 scored 46 points."
Awards were given to the other teams for engineering, design and popularity. A Toyota special award was also handed out.
"Those who didn't win also received a money prize as an appreciation," Chamnan says.
Gearing up for global competition
The contest was organised by the National Television of Cambodia under the Ministry of Information in search of a team to represent Cambodia at the Asia-Pacific Broadcasting Union Robot Contest (ABU Robocon) with other students from 20 countries in Suva, Fiji.
It's not a coincidence that Fiji's national pastime, rugby, was chosen as a theme. But the sport is unfamiliar to many Cambodian students, so each team spent the early days of the project practising the sport to understand the rules before designing their robots.
ABU Robocon was postponed due to the pandemic and it has yet to be rescheduled.
Robocon Cambodia was also initially planned for May but was delayed until October 3 due to the pandemic.
The delay gave students more time to test and improve their robots, but they also found it hard to get the parts they needed from other countries.
NPIC02's leader Sun Thara says: "The outstanding feature about our rugby robots are the speed and accuracy with which they score goals.
"My team has eight members, but only one of them is a girl. We have people who are in charge of circuits, mechanics and software. Some of us are responsible for design and programming and some are in charge of electronics and assembling parts," adds Thara, an electronic engineering major.
"I think we work smoothly. The challenge was to make the robot kick the ball. We also had to do a lot of studying about the rules of the game, kicking techniques, catching and scoring goals."
Vong Daleng, NPIC01's leader and a mechanical engineering major, made sure to develop strong connections within his team before getting to work.
"Then we could start to sharpen our ideas in designing the appearance of our robot. The most challenging part is to understand the algorithm of throwing and catching the ball. We had to test several times until we found well-defined instructions which could be implemented in the rugby game," the 21-year-old Daleng says.
"We tried our best to reach the maximum accuracy and we focused on speed so that our rugby robots would score as many points as possible.
"The next step, which is also a challenging one, is building the robots and assembling parts. Cutting and welding took us a lot of effort. After building the robots, we had to do many trial tests to see their ability performing tasks and modify it until we agreed that they are fit to compete on the playing field."
Skills for the future
The two NPIC teams were supervised by their teacher Thlang Sochen.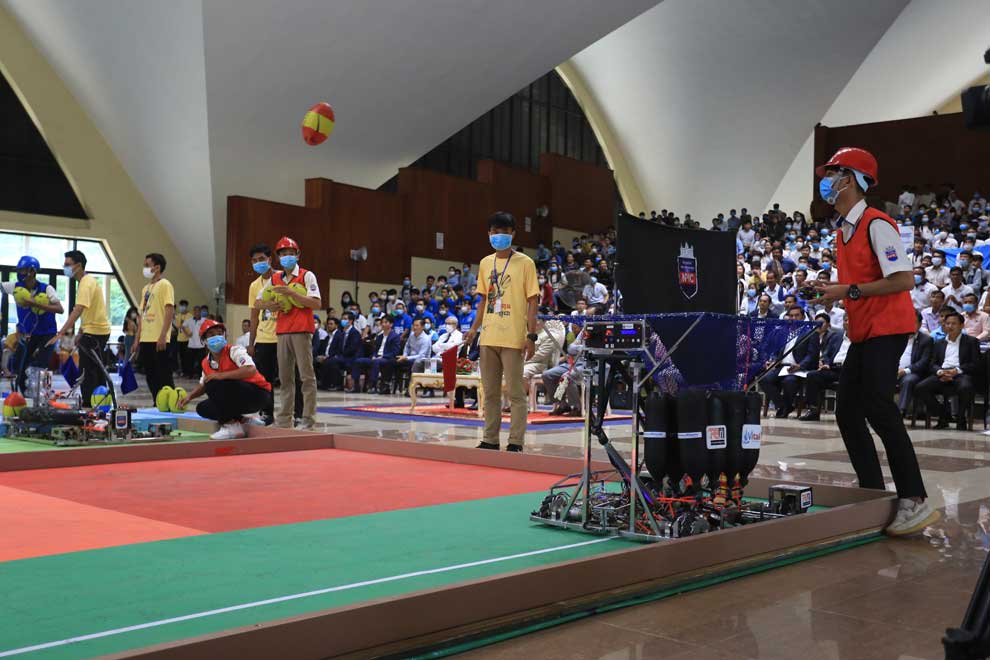 "We have two teams and four robots from our school. Each team consists of students from three majors: mechanics, electronics, and electrical. We divided the task according to their skills," Sochen says.
"Mechanical engineering students are in charge of designing how the robots will look. Electronic engineering students work with electronic circuit design and electric engineering students focus on electric power systems. The result comes from their integrated ideas and efforts in designing and building."
Sochen is proud to see his students grow their confidence and skills and hopes they will become assets for Cambodia, which needs more human resources in science, technology, engineering and mathematics (STEM).
As a supervisor and teacher, Sochen notices the growing confidence and ability in his students.
"Before the contest, they only studied theory and lessons in the classroom. While they were working together, they learned practical skills and what it was like to work as a team."
"It was an interesting experience and a learning journey for them. It's such an eye-opening project when they applied what they learned from electronic circuit design and software programming into a robot."
Besides their STEM knowledge and skills, Chamnan echoed the importance of good teamwork to succeed in the competition.
"All team members had to work together and combine their knowledge, skills, and creativity and inject them into a real robot."