Future couples are supposed to share an increasing number of posts on Facebook – 100 days before their relationship becomes official, data analysts from Facebook say.
For this the data specialists evaluated 18 million (!) posts of 460.000 couples who later switched their status from 'single' to 'in a relationship'.
According to the analysts a couple-to-be increased the amount of messages, and visits and posts to each other's page.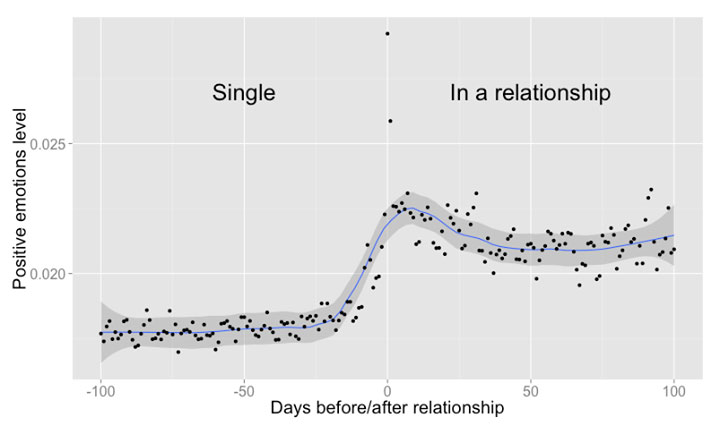 The amount of daily messages peaked at 1,67 per day on average 12 days before the relationship officially started the Facebook analysts say while 85 days earlier there were only 1,53 messages on average.
Once the relationship started the amount of messages between the lovers drops significantly.
"Presumably, couples decide to spend more time together, courtship is off, and online interactions give way to more interactions in the physical world." Carlos Djuk, Facebook data analyst explains.
LIFT test
If Facebook knows (statistically speaking) that you end up in a relationship – why shouldn't you?!
So here is a little (not so serious) test:
1. Check your messages with all your ex-lovers (the more the better, statistically speaking)
2. Calculate the average amount of messages exchanged with your exes 12 days before you started dating officially.
Example: - Bopha: 2 messages
Kosal: 3messages
Pich: 4 messages
Average: 3 messages a 12 days before you started dating
3. Check your messages with the girl/ boy you are secretly in love with and wait until you exchange 3 messages per day – congrats, in 12 days you will be in a relationship (statistically speaking)!
Contact PhnomPenh Post for full article
Post Media Co Ltd
The Elements Condominium, Level 7
Hun Sen Boulevard
Phum Tuol Roka III
Sangkat Chak Angre Krom, Khan Meanchey


12353

Phnom Penh




Cambodia



Tel: +855(0) 23 888 161 / 162
Fax: +855(0) 23 214 318