Suspected to be the most-trafficked animal in the world, pangolins are rapidly disappearing from the wild. In Cambodia, rescue efforts and captive breeding programmes are trying to bring them back from the edge of extinction.
Hitching a ride on his mother's back, a baby pangolin no more than a few days old made its way aimlessly on March 24 through the streets of Phnom Penh, a bustling city likely far from its home.
The journey was cut short, however, when the mother-baby pair encountered a passerby who recognised their value.
The man allegedly suggested selling the pair to a Chinese restaurant, where he assured his friends the animals would fetch a handsome price.
A Cambodian bystander intervened, however, and convinced the man to give her the baby, which would not be worth much at a restaurant.
The woman was now in possession of a member of the world's most trafficked animal species, whose population has dwindled rapidly in Cambodia throughout the last decade.
She brought the young pangolin home, where she and her partner tried to feed him milk for several hours without success.
Unequipped with the knowledge to care for it, the couple decided to call the Wildlife Alliance's wildlife rescue hotline, and the little one was eventually transferred to a sanctuary.
The couple had managed to save the life of the baby pangolin but the whereabouts of his mother remain unknown.
According to Nick Marx, wildlife programmes director at Wildlife Alliance Cambodia, who recounted what the woman's boyfriend had told him about the pangolin encounter, the pair is likely to have escaped the clutches of wildlife traffickers.
"They clearly came either in transit or escaped from a trader's premises," he said.
Listed as critically endangered by the International Union for Conservation of Nature's Red List, the mother and baby are Sunda pangolins, the only species found in Cambodia.
Due to illegal trade, their populations have plummeted towards extinction. However, the attention paid to this endangered animal was, until recently, incommensurate with the scale of its black market.
Pangolins simply do not make headlines the way more charismatic wildlife animals like elephants or tigers do, Marx said.
"Until recently they've been fairly ignored. Now, because of the sudden drop in population and the enormous value placed on them in wildlife trade, they've been put at the forefront."
The team at the Phnom Tamao Wildlife Rescue Centre will nurse the young pangolin to a healthy weight and age, with the hopes that it can then be released into the wild. But for him, the outside world will be a precarious one.
A dwindling population
Covered in an armour of hard, plate-like scales, the Sunda pangolin resembles something between an anteater-warrior prepped for battle and an artichoke on legs. When startled, this scaly critter curls up in a tight ball and stays completely still, effectively protecting itself from almost all predators that pose a credible threat except humans.
Believed to be the most trafficked mammal in the world, some estimates claim that pangolins account for more than 20 percent of the wildlife trade worldwide.
Local beliefs surrounding pangolins are steeped in superstition, similar to those of nearby countries like China and Vietnam, the largest consumers of pangolins worldwide. Pangolin scales are believed to have medicinal properties, and their meat is considered a luxurious delicacy that is likely still obtainable in several Chinese restaurants in Cambodia.
According to Chris Shepherd, regional director for Traffic in Southeast Asia, the regional pangolin trade reached a peak a few years ago, when the organisation started seeing seizures of 16 to 20 tonnes per shipment, largely of whole pangolins or their meat, as well as cargoes containing a few hundred kilograms of dried pangolin scales.
"The vast majority of those major sources of pangolins in Southeast Asia, including Cambodia, are already gone. As Asia is losing its pangolins, they are increasingly coming from Africa," Shepherd said.
In Cambodia, it has never been so difficult to see pangolins.
"Pangolins used to be much more common than they are now. There has been a steady decline over the last 10 years," Marx said. "We've seen much fewer [pangolins] confiscated, which could be an indication that they are less about."
From 2007 until 2010, 59 pangolins in the Central Cardamom National Park were confiscated from poachers and traders, according to Naven Hon, a research coordinator with Conservation International and the Forestry Administration. Since 2014, however, just three have been discovered, all this year.
Hon and Marx say that it is virtually unknown how many pangolins still exist in the wild in Cambodia, as no nationwide surveys have been conducted.
"One doesn't see pangolins very much because they are nocturnal," Marx said. Their rarity has driven up the value.
"This is exactly why they are very heavily traded and why there are serious reductions in numbers."
A second chance
The Sunda pangolin was afforded the highest level of protection last year by the Convention on the International Trade in Endangered Species (Cites), to which Cambodia is a signatory. Now classified under Cites Appendix 1, the Sunda pangolin and all seven other species are banned from international commercial trade.
But there is no international mechanism to hold a country accountable for violations of the convention, which Shepherd says limits its effectiveness in suppressing illegal trade.
Under Cambodia's domestic law, while dealers of common species would be slapped with a fine typically three times the value of the species being traded, trading in an endangered species like the Sunda pangolin should result in automatic imprisonment.
However, this does not stop poachers from selling any pangolins they manage to get their hands on.
One of the problems, Marx said, is complicity among local authorities.
"There is a lack of proper enforcement of laws. Wildlife animals have been openly sold in places like Stung Treng every day. There is no way the local authorities wouldn't know, but they don't do anything about it," he said.
"When we ask them, they always give excuses. Often local authorities are complicit in wildlife trading."
To fight against pangolin trafficking, Wildlife Alliance assists the government in investigating and cracking down on illegal trade, and the group also rehabilitates and releases the rescued animals.
Marx said that pangolins confiscated from busts are always released immediately, unless they sustain injuries too severe to survive by themselves.
"They are released [at night] in an appropriate, protected forest . . . We [usually] release the pangolins in the nearest safe forest [to] where we confiscated them," he said.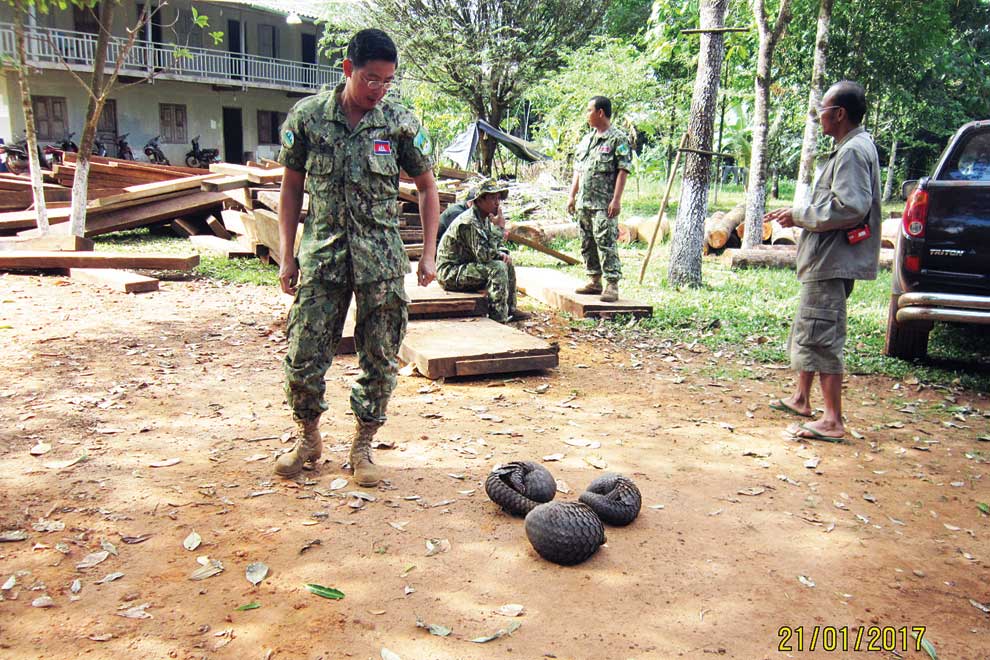 Pangolins that have been taken care of for some time will be released, with "supplemental" food placed nearby. In an ideal situation, and with more money, Wildlife Alliance could attach a transmitter to a pangolin to better understand its behaviour in the wild.
The group is also slowly trying to build numbers back up through its captive breeding programme.
In addition, the organisation works to protect around 800,000 hectares of forests in the Southern Cardamom Mountains in Koh Kong province, the largest habitat in the country for released pangolins to have a potentially safe place to live.
The effort put in to rehabilitate a pangolin is immense given the risks they face once released back into the wild, particularly from snares and hunting dogs.
To ensure a steady supply of ants and termites, pangolins' primary diet, a worker is hired every month to collect them in the forest, a portion of which is then frozen for storage.
For the orphaned baby pangolin, little was known about how best to care for him, such as what would be the most suitable substitute for his mother's milk, Marx said.
Unlike most other rescued pangolins traumatised by previous human encounters, he is excessively friendly towards people. Now over 2 months old, he is still being cared for by a dedicated team at the Phnom Tamao centre.
When he approaches a year old, a time when he is capable of looking after himself, the baby pangolin will be released in a protected forest, where he will have a fighting chance of evading hunters set on pushing his species to the brink of extinction.
"[Releasing pangolins] does not mean that they are completely safe [but] some areas are safer than others. Really what one would say is that they get a second chance," Marx said.
To donate to Wildlife Alliance's conservation efforts, visit the Wildlife Alliance website or to sponsor an animal click here.
Contact PhnomPenh Post for full article
Post Media Co Ltd
The Elements Condominium, Level 7
Hun Sen Boulevard
Phum Tuol Roka III
Sangkat Chak Angre Krom, Khan Meanchey


12353

Phnom Penh




Cambodia



Tel: +855(0) 23 888 161 / 162
Fax: +855(0) 23 214 318