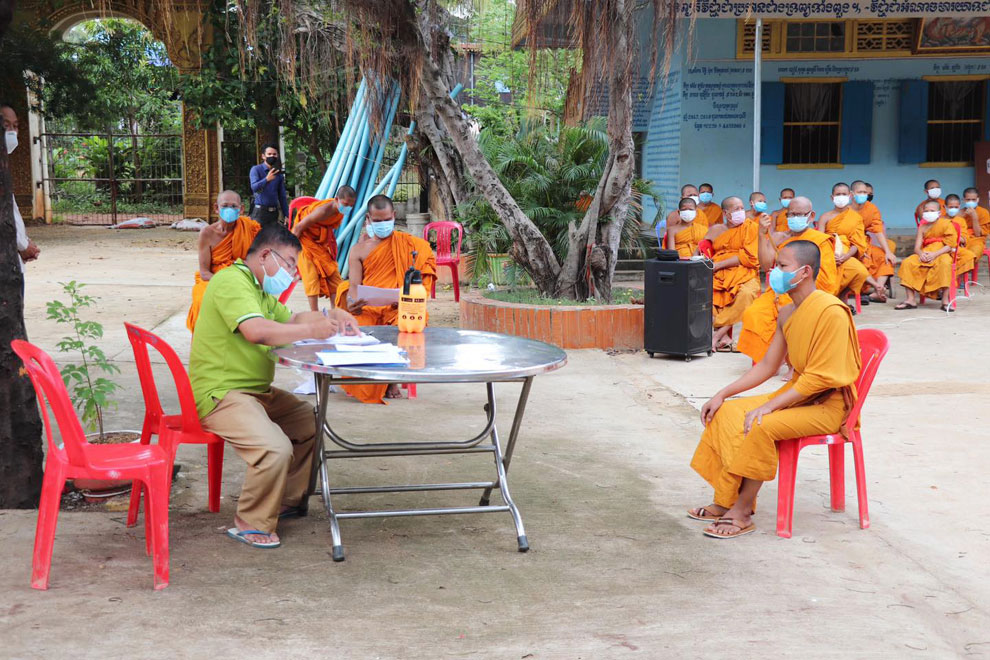 At least 110 monks, nuns and laypeople from Battambang and Banteay Meanchey provinces have tested positive for Covid-19 since the start of the Pchum Ben festival.
In Battambang province, more than 60 people at several pagodas in four districts have tested positive, according to provincial Department of Cults and Religions director Kun Sambath Moniroth.
He told The Post on September 29 that the department had no plans to test all monks and pagoda residents across the province, but only monks at pagodas linked to or suspected of having contracted the coronavirus.
"Most of the more than 60 people who have tested positive are monks," he said, adding that the province has 385 pagodas with a total of 6,332 monks.
In Battambang town, which has 31 pagodas and more than 1,400 monks, health officials will continue to test monks and others in each pagoda. So far, health workers have collected samples from monks, nuns and laypeople at six pagodas for testing and found three positive cases at two of the six pagodas.
Sambath Moniroth continued that monks at some pagodas in Phnom Proek, Kamrieng and Bavel districts had also tested positive for Covid-19. Of the pagodas, Khnach Romeas in Bovel district had 58 monks infected with Covid-19.
"Health officials will continue to collect samples from a number of monks in pagodas in Battambang town and other districts in case any pagoda is found to have monks or pagoda residents linked to or suspected of having Covid-19," he said.
He said health officials will monitor conditions along with the authorities to take samples from people at pagodas suspected of having Covid-19.
"We only spread the word and monitor the situation. The department did not lock down all pagodas and only closed those that had Covid-19 infections.
In Banteay Meanchey province, more than 50 monks have tested positive for Covid-19 and many pagodas including those in Sisophon town and Mongkol Borei, O'chrou, Phnom Srok, Preah Net Preah and Malai districts have been placed in lockdown.
In Siem Reap province, provincial administration spokesman Liv Sokhom said authorities had no plans to test pagoda residents, saying Siem Reap did not permit Pchum Ben festivities.
"We comply with the ministry's guidelines and give food to monks for a while. Not many people went to pagodas as many villages have been designated as red zones with no one allowed to leave their homes without permission," he said.
Religions ministry spokesman Seng Somony could not be reached for comment.