Phoeurn Picharonai is one of a small group of people who donate blood on their birthday – with August 9 this year her 31st – doing so to safeguard mothers from the dangers of childbirth.
"My mother lost a lot of blood giving birth to me on my birthday, and many other mothers will also need a lot of blood during childbirth.
"So when we celebrate the day on which we were born on this Earth, we should donate blood to save the mothers and babies who may be in need of it," Pichcharnai said of the rationale behind her generous gesture.
While donating blood helps save the lives of many people around the world every day, it is important that it is only carried out in hospitals, clinics or blood banks in the presence of medical professionals.
Donors must also ensure that they are in good physical condition to avoid passing on any health problems to those in need of blood.
Pichcharnai gives blood at the Angkor Hospital for Children in Siem Reap, with this year not the first in which she will make the more than 100km trip from her home in Banteay Meanchey to do so.
"I live in Banteay Meanchey, but I go to Siem Reap to donate at the Angkor Hospital for Children because there are a lot of children there needing blood and so there is a great need for it.
"I do not care about the cost because I am so motivated," she said.
Rather than celebrate with friends over a bottle of wine, Pichcharnai marks her birthday by donating blood, and she has ambitions to do so three times a year if the medical team allows.
"Some people celebrate their birthday by throwing a party, or going to a bar or restaurant, but for me, I think it should be the time to donate to a good cause and save the life of someone who needs blood.
"Donating blood is safe and easy, and because our blood is produced every day, donating it does not affect our health," Pichcharnai said.
Sitting at work, Pichcharnai described to The Post her experience of donating blood for the first time.
"I remember seeing the needle they use, and it is bigger than a normal needle for injections. It was a bit scary to see that needle for the first time, but it did not hurt at all.
"When drawing blood, the doctors are very professional and it only takes seven or eight minutes. I was a bit scared of needles, but when I donated blood for the first time, I saw that there was nothing to worry about. I was still able to ride my motorbike home afterwards and go about my business as normal," she said.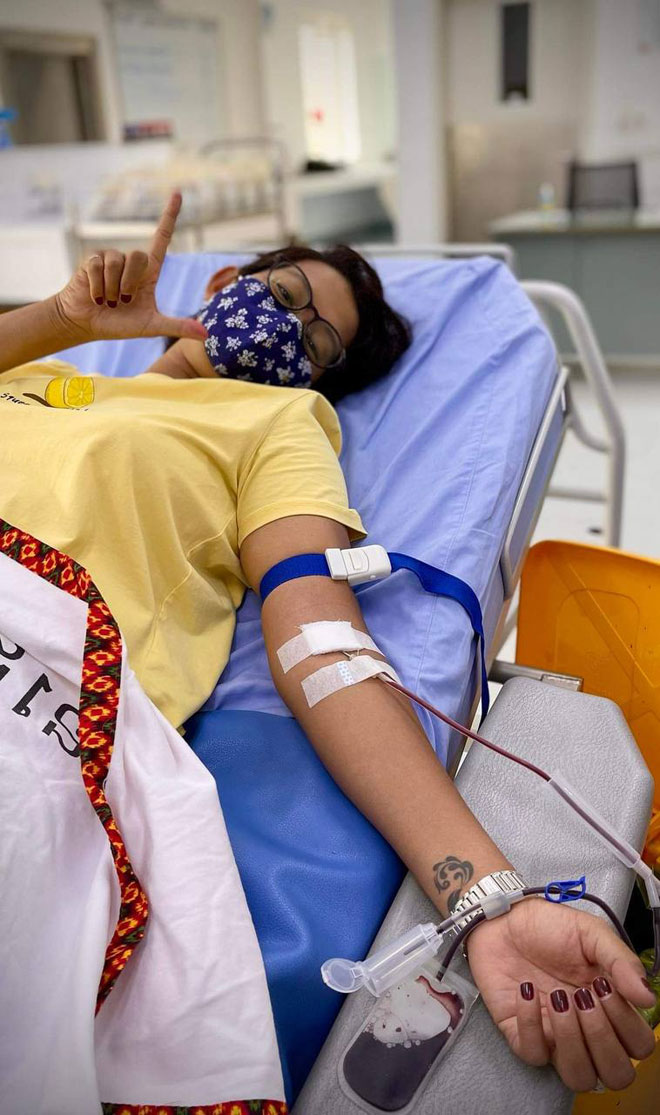 Sim Socheata, who also donates blood at the National Blood Transfusion Centre in Phnom Penh on her birthday, said she was happy after volunteering for the first time.
"I started donating blood in 2020. Some of my friends were doing so and decided I decided to join them. I felt good afterwards, and since then I have set special days to donate blood, and I do so on my birthday," she said.
A dedicated blood donor, Socheata said that as long as there is a need for blood, she will not hesitate to continue donating.
"When the time comes, I do so immediately because I can donate blood three times a year, depending on my health.
"When we go to donate blood, we know that it will be used to help people during surgery, with our actions able to save the lives of others, whether we are men or women, young or old," she said.
Aiming to return to the National Blood Transfusion Centre later in August after a health condition prevented her from donating in July, Socheata said she was taking care of herself so she could donate regularly to children in need.
And she called on all those who can to donate blood on special occasions, or any time they could.
'More hope'
Kan Naron, a parent of one of the many children with anaemia or leukaemia who need regular blood transfusions, said a regular supply of blood was crucial.
"My son would not have survived until now if he had not received blood from these volunteer blood donors. They are truly lifesavers. But we need more because it has at times been very difficult to find enough blood.
"I hope that if people understand more about donating blood, it will make it easier for them to help us and provide more hope for those who are sick, like my son, who has cancer and needs regular blood transfusions," Naron said.
Sok Po, the president of the National Blood Transfusion Centre, told The Post that in Cambodia, due to limited awareness and perhaps fear, a lack of voluntary donations could leave blood in short supply.
"The daily demand for blood at the National Blood Transfusion Centre is between 250 and 300 bags. Voluntary blood donations before the outbreak of Covid-19 were around 17 per cent, which decreased to seven per cent during the pandemic. However, donations are expected to increase in 2022 to around 15 per cent," Po said.
Po said that while the heroes who dedicated a special occasion – such as Valentine's Day, a wedding anniversary or birthday – to donating blood remained somewhat small in number, those who did so were highly committed.
And the president of the National Blood Transfusion Centre called on more people to donate blood to ensure stocks were kept high.
"People who want to donate blood can do so at all public hospitals across the country, while the National Blood Transfusion Center accepts donors every working day.
"We will do more to raise awareness and promote the donating of blood to make sure hospitals are not in short supply and we can continue saving lives – so we are calling for everybody's participation to donate blood together," Po said.