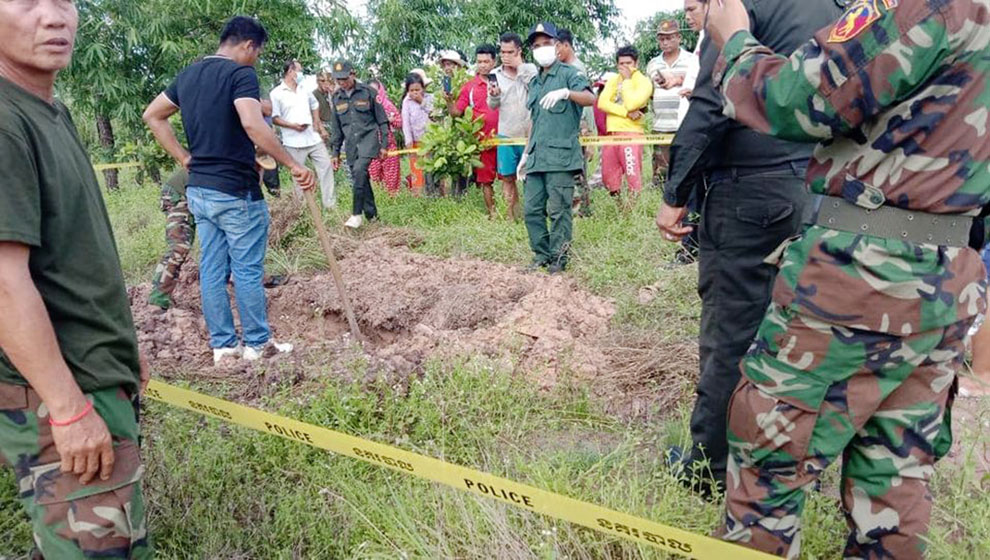 The Preah Vihear Provincial Court sent a Military Police official to the provincial prison on Saturday for killing his girlfriend. Police first arrested him on Friday in Sra Em commune, in the province's Choam Ksan district.
Deputy provincial police chief in charge of anti-human trafficking and juvenile protection Prang Thida on Sunday named the suspect as Sin Sim, 52.
He is attached to Unit 382 under Intervention Brigade No 8. His duty was to guard Preah Vihear temple. His deceased girlfriend was 55-year-old Huoy Phalla.
The court has already sent Sim to prison.
Investigating judge Chean Sros charged him with murder under Article 199 of the Criminal Code. If convicted, he faces 10-15 years in prison.
Sros said: "He confessed to the killing and authorities found the place that he buried the body."
Citing Sim, Sra Em commune district police chief Huy Sophon told The Post on Sunday that Phalla had three children before she met Sim. She had a 15-year-old daughter and two other daughters who are married. The three of them live in Kampong Chhnang province.
Phalla moved in with Sim in Sra Em commune. Before the incident, at around 2pm, Phalla demanded Sim stop spending money carelessly and refused to give him access to money. They then had an argument.
During the argument, Sim grabbed Phalla's legs, causing her to trip and hit her head on the cement floor, which caused her to be knocked unconscious. He then killed her by hitting her head against the floor again.
Sim then hid her body in the bathroom and returned to Preah Vihear mountain to work as if all was normal. At 9pm on September 17, Sim came back from the mountain and took Phalla's body about 50m behind the house to bury it, Sophon said.
A week after the incident, people nearby noticed Phalla's disappearance and told villagers. Commune authorities searched the house for Phalla and saw traces of blood, prompting them to call the police.
Following footprints, police reached Phalla's burial site and suspected that Sim had killed her, Sophon said.
"I called the suspect to question him and he confessed that he killed her. The police arrested him because they found the victim's body too," he said.