Prime Minister Hun Sen thanked China for its help with the construction of National Road 11 connecting Prey Veng to Tbong Khmum provinces, saying it will facilitate trade and ease the flow of traffic on the route.
Hun Sen made the remarks on December 6 while presiding over the inauguration ceremony in Prey Veng town in the presence of Chinese ambassador to Cambodia Wang Wentian.
"In ancient Khmer proverbs, there is the phrase 'if there is a way, there is hope' while in Chinese proverbs they say 'if you want to get rich build roads first'. These proverbs reflect the reality of human needs.
"Khmer have the habit of asking each other is there a way or not? Is there a way? All Khmer use it, not just referring to travel ... if there is a way then there is hope. We must strive to continue making investments in building necessary infrastructure," he said.
Hun Sen also recommended that the Ministry of Public Works and Transport study the construction of another new road connecting Kandal province's Lvea Em district to National Road 11 and a route from National Road 1 to the Cambodian-Vietnamese border.
National Road 11 spans 96.48km from Neak Loeung – a busy commercial town in Prey Veng province where it intersects with National Road 1 to Thnal Totueng where it meets National Road 7 in Tbong Khmum province.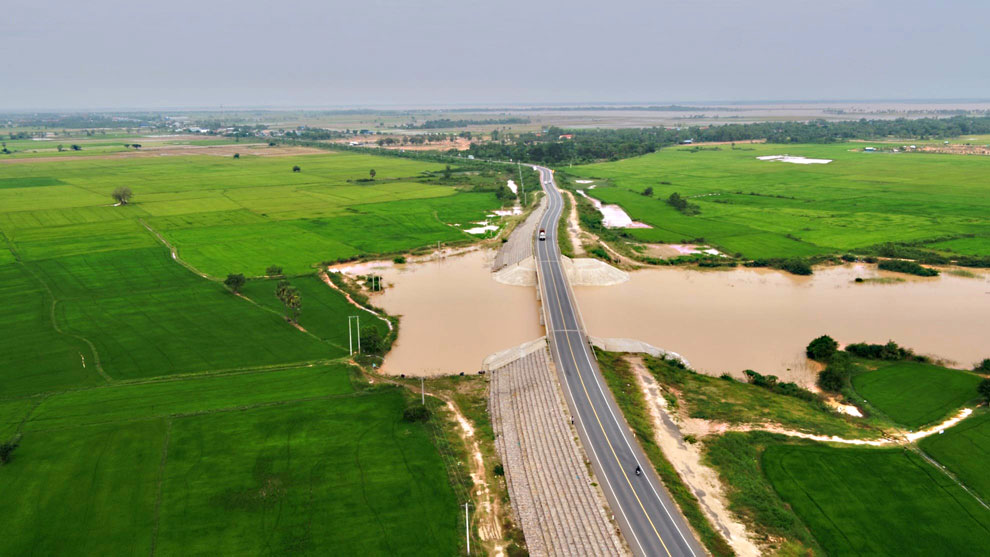 National Road 11 was constructed with grants and technical assistance from the Chinese government at the cost of $98.38 million.
The public works ministry said National Road 11 is a 5cm thick Asphalt concrete (AC) paved road which they also raised and widened from 9m to 11m with a 60cm thick foundation layer both above and below.
It was built by the China Bridge and Road Corporation (CRBC) under the technical supervision of Guangzhou Wanan Technical Consulting. The construction took 30 months and began in December of 2017 and was completed in June last year.
Public works minister Sun Chanthol said this new national road will ease travel between Prey Veng and Tbong Khmum provinces. It will facilitate the flow of traffic and the transport of agricultural and agro-industrial products to domestic and international markets faster and more effectively at a lower cost.
"This new achievement is a precious and invaluable gift from the government to the people of Prey Veng and Tbong Khmum provinces as well as to people all over the country," he said.
Chanthol also called on all those who make use of the road to respect the traffic laws and take part in maintaining them given that the number of cars had increased from 650,000 in 1998 to 920,000 in 2021, while the number of motorcycles had increased from 200,000 to 5.2 million in the same period.