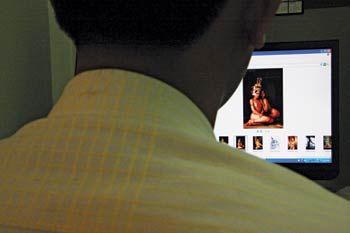 As more internet content pushes the boundaries of what is acceptable in
Khmer culture, the government has moved to tighten its grip on what
should be admissible online
Photo by: SOVANN PHILONG
An internet user views the controversial images of apsaras on a website blocked by domestic service providers since January.
Reaction to reahu
The ongoing blockade of the reahu.com website due to the naked images of Apsara dancers contained within has not only raised questions about government censorship but also over just what is and is not acceptable in Cambodian society when it comes to media images. "I don't think it is wrong," said Rasmey, a 21-year-old Royal University of Fine Arts student who also paints ApsaraS, but with their breasts covered with transparent cloth. "But I don't like it because it makes people think that Cambodian women like to show their bodies in public," he said. Rasmey said some degree of government intervention was needed because "these kinds of pictures can turn our culture into a joke". For 19-year-old Chhim Srey Roth, a third-year art student at the Reyum Institute art school, the
Apsaras she learned to draw were far more demure than
the busty, topless women gracing the reahu 
website. "I used to draw Apsaras with very thin fabric covering their bodies. It does not look like the Apsara on the reahu website, who have very big breasts," she said. She said Apsaras were meant to symbolise the gentle beauty of Khmer women, without alluding to them as sexual beings. As traditionally depicted on the walls of Angkor-era temples, Apsaras bear their breasts, noted Heng Monyphal, a professor of painting at the Royal University of Fine Arts. "So it's an artist's right to do it this way," he said. But today, he said, most artists add some degree of cover out of respect for women, and he suspected modern-day compositions of topless Apsaras came not from a dedication to historical accuracy but rather an intention to catch the eye – and drooling mouths – of male audiences.
BRENDAN BRADY AND MOM KUNTHEAR
WHen Khmer-American artist Koke Lor published images of naked Apsara dancers on his website reahu.com, he unwittingly kicked off a censorship storm that may shed light on the government's future attitudes towards the regulation of online content.
The website stirred up controversy after a major Khmer-language newspaper published pictures from the website of the bare-breasted dancers as well as a woman scantily dressed in the clothing of a Khmer Rouge cadre.
Access to the website has been blocked since the end of January for users of domestic internet service providers Angkor Net, Mekong Net and Online. Mobile service provider qb has also blocked access via its 3G internet network.
In late February, the website of the UK-based corruption watchdog Global Witness was also unavailable for some local web users following the organisation's release of a scathing report on the Kingdom's oil and mining industries.
Minister of Posts and Telecommunications So Khun confirmed at the time he had sent a letter to the internet providers, but said he did not know what effect it had.
Sy Define, a secretary of state at the Ministry of Women's Affairs, had told the Post her office cooperated with the Ministry of Posts and Telecommunications to have the reahu website banned domestically along with other websites that she considered pornographic.
She also asked the Education Ministry to include lessons on traditional culture in school curriculums around the country to reaffirm Khmer morality. "Nowadays, youths seem more interested in Western culture than in their own," Sy Define said.
First lady Bun Rany has also crusaded against images and technologies that, she says, compromise the social mores of the Kingdom, such as when she spearheaded an effort among the wives of senior officials in 2006 to ban 3G  net connections, citing concerns the video technology would be used to send pornography.
For his part, Koke Lor has shot back at local critics, calling them myopic.
"I am pushing the boundaries and that's being creative," he said. "If you don't push the boundaries, you cannot find your limits."
Phu Leewood, secretary general of the National Information Communications Technology Development Agency (NIDA), said he was sympathetic to Koke Lor but stood by the line of the Ministry of Women's Affairs. "With reahu in the US, this is freedom of information - it's fine art, attractive commercial art," Phu Leewood said.
"But, in Cambodia, some people say its pornography. The Ministry of Women's Affairs says it's degrading to women, and that stood."
However, he added that any decision to ban access to a website should have been approved by the Council of Ministers first.
Government denials
The government-prompted blacklistings follow denials from the Ministry of Information that new legislation it is drafting for audiovisual media will bear on content or online material.
If you don't push the boundaries, you cannot find your limits.
In mid-January, first reports of the proposal, the details of which have not been publicly disclosed, drew a sharp response from local media who cautioned it would be used as a tool of state censorship against online material critical of the government.
Information Minister Khieu Kanharith has since said the draft law is widely misunderstood, insisting that it would regulate the platforms of radio, TV and print media, but not their content - and would not apply to the internet.
However, Mao Chakrya, director general of the Ministry of Posts and Telecommunications, said the draft law was explicitly about the content. The technology that allowed its delivery was not relevant, which was why the proposed law would be regulated by the Ministry of Information rather than the Ministry of Posts and Telecommunications, he said.
Local leaders of Cambodia's online community remain deeply cynical of any government efforts to govern the internet given its shaky track record with freedom of speech.
Cambodia is currently ranked 128th - or "partially free" - on the US-based Freedom House organisation's 2008 press freedom list.
Norbert Klein, a German national who is credited with introducing the first internet connection to Cambodia and is editor of the Cambodian Mirror website, said the government was running a haphazard campaign to "clean society".
He said an internet content law was no magic bullet, as developing a consensus on what content should be admissible had proved nearly impossible in other countries.
Contact PhnomPenh Post for full article
Post Media Co Ltd
The Elements Condominium, Level 7
Hun Sen Boulevard
Phum Tuol Roka III
Sangkat Chak Angre Krom, Khan Meanchey


12353

Phnom Penh




Cambodia



Tel: +855(0) 23 888 161 / 162
Fax: +855(0) 23 214 318