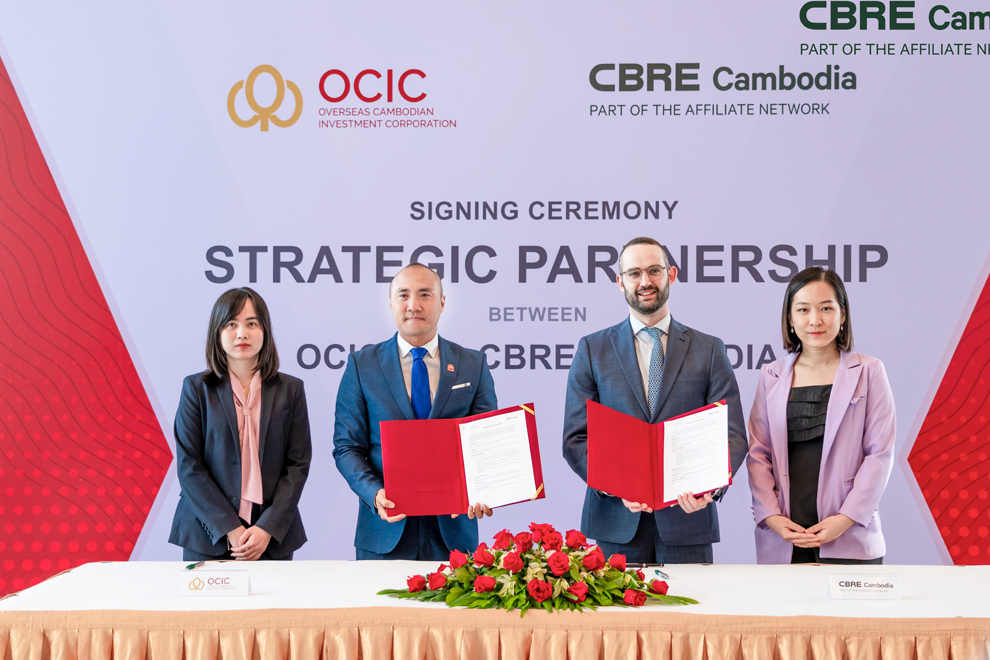 Local firms OCIC Group and CBRE Cambodia are joining forces to inject momentum into real estate development in the Kingdom and boost the investment potential of the sector, with a focus on the capital's most famous man-made island of Koh Pich – also known as "Diamond Island".
A memorandum of understanding (MoU) on the "strategic partnership" was signed on March 23 at a ceremony attended by senior officers of both companies as well as representatives of the American Chamber of Commerce in Cambodia (AmCham), according to a press release issued in conjunction with the event.
The release described the MoU as "the first step of a renewed collaboration" between the local affiliate of New York-listed real estate firm CBRE Group Inc – which has a presence in "more than 100 countries" – and the OCIC Group, which is behind Koh Pich and has developed residential and commercial properties as well as infrastructure in Cambodia for some 23 years.
The deal is "aimed at creating new opportunities for investors, customers and urban residents alike", it said, adding that the first phase will specifically focus on the "evolution" of OCIC Group's projects on Koh Pich – which measures over 1sq km and is located in Chamkarmon district.
CBRE Cambodia managing director Lawrence Lennon explains in the release: "As we embark on a strategic [MoU] with OCIC, we recognise the immense potential for collaboration and innovation in the real estate sector.
"This partnership will not only bring significant benefits to our clients, but also contribute to the sustainable development of Cambodia's urban landscape.
"We anticipate that this strategic partnership with OCIC will unlock a multitude of new opportunities for both companies, including access to valuable market insights, enhanced services, and the ability to tackle complex real estate challenges with a more collaborative approach.
"By leveraging each other's strengths, we are confident that we can drive positive outcomes for our clients and the broader community in Cambodia," he said.
OCIC vice-president Thierry Tea added: "An urban development, anywhere in the world, takes several decades to transform and mature. It is a very long-term investment, a tremendous amount of hard work, and it genuinely highlights the commitment of the developer for the future of the country.
"Today Koh Pich counts more than 15,000 residents, over 2,500 residential units [and] diverse properties.
"We are delighted to witness that Koh Pich is experiencing a new wave of energy with recent additions of F&B [food and beverage] outlets … [to serve] the growing residential zone."
The release noted that 1,500 new condominium units and 200 new villas are expected to be completed soon, and that the much-anticipated bridge linking Koh Pich to the 125ha Koh Norea is set to be finished by end-2023.
Koh Norea is another OCIC-developed man-made island in the capital, located in Chbar Ampov district's Niroth commune.