With only limited improvement in recent years, the gap in the Kingdom's social-care services leaves many abuse victims without hope. While 9-year-old Nari deals with the trauma of her rape, her mother fears stigma from fellow villagers, and struggles to see a future for the family in the absence of specialized support.
Nari stared at the rain without blinking as she wrapped her small arms around her mother, as if a magnet was pulling the 9-year-old in. At times, she used her mother's thighs as a pillow.
Days before, Nari had been raped by an 18-year-old in her village of Ma Kleur in Battambang province's Prey Khpos commune. The police had taken her statement and a local NGO had offered to provide her with a safe place to stay, but her mother, Noun, decided to come back to their village.
Now, without any support services, Noun said she was at a loss how to deal with the traumatic experience. "I feel hopeless," she said.
Cambodian police, government officials and NGO leaders all readily admit they are failing child sexual assault victims, with few receiving professional help to deal with the traumatic experiences that might enable them, and their families, to heal.
What few intervention services exist, such as counselling or therapy to prevent anxiety and mental health problems from arising later in life, mostly come from NGOs.
Joan van Niekerk, president of the International Society for the Prevention of Child Abuse and Neglect, said children who have experienced sexual abuse require help from trained professionals to follow through the course of the case and beyond.
This requires sensitive police officers trained in forensic interviewing and how to communicate with traumatised children; qualified medical staff to perform examinations; and a social worker or psychologist trained in child care and protection to "assess the child's immediate and long-term needs for therapy".
They also require support during the court process, among other support systems, van Niekerk said. "One must also remember that work with the child usually needs to continue after finalisation of the court case as most children need ongoing therapy," van Nierkerk said via email.
However, the child-protection system in Cambodia remains "largely fragmented" as well as "understaffed and underfunded", said UNICEF Cambodia spokeswoman Iman Morooka. Establishing a child protection department to address violence against children and sexual violence, she said, is "critical".
"As a matter of urgency, the government needs to establish a Department of Child Protection to respond to cases of abuse and to employ more social workers," she wrote in an email.
In cases of child abuse, the first responders should be social workers, to ensure the child is safe and not at risk of being abused again, Morooka said. The second frontline responders should be the police.
However, in the Kingdom, there is one social worker for every 6,646 children, according to Morooka. Therapists and psychologists are also needed.
"The shortage of social workers in Cambodia is a critical gap that must be addressed to ensure that children are protected from neglect and violence," she said.
Multiple attempts to obtain comment from the ministries of women's affairs, social affairs and interior and the Cambodia National Council for Children were unsuccessful.
Jim McCabe, director of the Child Protection Unit, said the treatment of child rape cases had been improving in recent years.
He said the unit – a collaboration between the Cambodian Children's Fund and the National Police, which investigates serious crimes against minors – now assists on about 90 per cent of reported child rape cases.
Staff receive specific training on how to deal with child sexual assault victims. For example, each victim was given a teddy bear and a new set of clothes, while police determine whether the child is safe to remain at home and if they are in need of mental-health services.
"A child-protection officer walks through the whole judicial case with them," he said of a process that could take up to 12 months. "They grab the child's little hand through the course of the case."
However, he conceded "there is a need for more improvement of services".
Figures on the number of children suffering sexual assault in Cambodia each year vary. According to the National Police, there were just 38 during the first six months of this year (including 13 in Battambang province).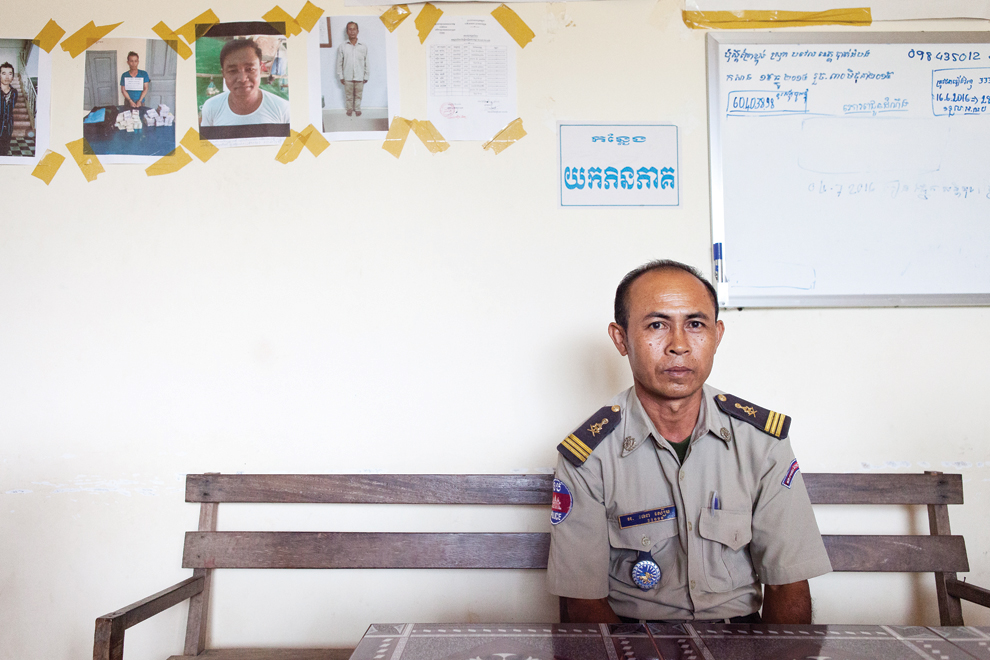 However, human rights NGO Licadho claims to have investigated 96 cases between January and May themselves (during the same period last year, they investigated 75 cases).
Last year, the NGO investigated a total of 195 cases – just in Phnom Penh and 13 provinces – and 182 the year before. "These cases are only cases investigated by Licadho," stressed Licadho president Pung Chhiv Kek.
Tep Seuon, Prey Khpos commune police chief, said Nari's was the first reported rape case in the commune in the past 10 years, but added that he would like to have training on "how to better handle" child rape cases.
He said he and his officers receive training on the basics, such as what is considered rape and what is consensual intercourse and the age of consent. "But not how to approach the victim," he said. "It's very hard, because they are still hurting."
As of earlier this month, the accused, Ce Salay, 18, was being detained at Battambang's Provincial Court and was facing preliminary rape charges. "The suspect confessed that he raped her," Seuon said.
Heng Say Hong, human rights monitor with Licadho, said there was a lack of funding for services for child rape victims in Battambang province – which has the highest rate of sexual assault reports in Cambodia. No one knows why.
"NGOs have few staff and limited resources," he said. "It's really the state's responsibility to solve this issue," he said. "We have seen no point of action from the government to do something about children's rape."
Lon Neang, a member of the Prey Khpos commune council for women and children, which is funded by the Battambang provincial department of women's affairs, acknowledged victims were being neglected by the system. The council simply doesn't have funding to provide services for them.
"We really need particular budgets for dealing with rape," she said. "Now, we can only refer them to NGOs. We have no budget at all to assist child victims of rape."
She said she would at least like to have a budget allocated to provide skills to parents helping their children deal with stress and mental health conditions that might surface from such life events.
"Especially for the mothers, because they are the closest to their daughters," she said. But "there is no real budget [from the state] to support them".
However, she plans to request that the Prey Khpos commune budget provide funding for these victims in 2017. The council's total budget for children's services is only 4 million riel, or about $977. "I want the NGOs and the government to provide justice to these victims," she said.
Oum Samon, director of the Battambang provincial department of women's affairs, said there was no funding to provide support to victims. Samon added that there was no indication any additional funding was forthcoming but that her department did provide education to people about preventing violence and sexual abuse.
"It's difficult, because there is no separate budget for us," Samon said.
Chim Bun Chenda is a program manager at Banteay Srei, a Battambang NGO that helps victims of sexual assault, domestic violence and trafficking, and has a safe house where it provides shelter for victims. Chenda said services offered to victims included travel, accommodation, meals and court support services.
Victims can stay in the safe house if they need a secure place to stay, she said. And, depending on their needs, a few can stay there long term. It was up to the victims to decide if they want those services, she said. "We respect their decision," she said. "We won't separate them from their family."
But her NGO's funding was shrinking, she added, and the future of the safe house remained uncertain. At the same time, the need for their services is increasing and the victims are becoming younger. The NGO has seen rape victims as young as 1 year old, Bun Chenda said.
"The younger cases happen in the remote areas, where the parents migrate."
The Cambodian Children's Trust, another NGO based in Battambang, provides services to the very young victims, said relationship manager Marnie Walters, but the number was limited.
On certain cases, if the family lived in the countryside, they would relocate them into town, where the child could receive needed services, such as counselling, she said. "We pay the rent, but they need to find a job," she said.
So Kanha Vuthy, with Friends International, said the organisation offered counselling, case management, family planning support and court support services. They also refer victims in need of mental health help to other NGOs.
"We have different counselling to meet different level needs," she said. But she said the NGO had limited staff and did not have the capacity to expand across the country.
Nari, from Ma Kleur village, was referred to Banteay Srei,
"Banteay Srei wanted her to stay, but we left," her mother Moun said, explain ing that she didn't want to be separated from her daughter and couldn't leave her husband alone at home with her other children.
She added the girl had been given medication for injuries to her reproductive organs, but was receiving no follow-up care because she lived out of town.
Moun fears that Nari could be bullied, because a lot of people in the village have been asking her the rape.
"I don't know how to deal with it," the mother said.
Noun hadn't noticed much unusual behaviour from Nari yet, except for the fact that she no longer wanted to go on the daily afternoon walks she once loved. But she herself was feeling the effects.
"I feel hopeless, and I have no energy to do work," the mother said. "It brings me sadness. I'm hoping things will get better soon."
Names have been changed to protect sources' identities.
Contact PhnomPenh Post for full article
Post Media Co Ltd
The Elements Condominium, Level 7
Hun Sen Boulevard
Phum Tuol Roka III
Sangkat Chak Angre Krom, Khan Meanchey


12353

Phnom Penh




Cambodia



Tel: +855(0) 23 888 161 / 162
Fax: +855(0) 23 214 318