Jean-Pierre Klondike: Fictional character, Artist, designer, writer and raconteur Jean-Pierre Klondike (a creation of an American artist who prefers to be known only as B.E) is clearing out some of his vast collection of art and ephemera gathered in Cambodia and Vietnam over the past 25 years – in a sale/art installation at The Plantation's Lotus Pond Gallery. This week he had a chat with Will Jackson about a few of his favourite pieces.
Svay Ken, Untitled (2008)
This is one of [celebrated Cambodian artist] Svay Ken's later pieces painted only a few months before he died in 2008. It's what I call "smart naive". His early stuff was painted without much technique, but he developed a lot over the years – you can see it in the way he's layered the colours and in the structure of the painting. This is a quintessential Cambodian image – out in the provinces, a home-made tractor – that he's just done from memory. It's fantastic. I first met Svay Ken in the '90s and we were very close. I have many of paintings of his. I would bring buyers to him all the time and he would sometimes give me small ones or I would buy larger paintings like this one.
B.E, Briefcase Assemblage (2006)
This is what's called an assemblage. They've been done since the early 1900s. It's just an art form like any other, such as laquerware. This one is an old Khmer box with these Catholic heads and very old photos from Vietnam, with the antique frames. They're all less than 100 years old. It's controlled decay; a natural melding of art, visual objects and aging detritus. It's like a sketch, with vintage material. B.E is continually collecting stuff for future use. Like these heads. He went to a dealer and they had a bag of heads and they said: "Are you interested in a bag of heads?" And he said: "Yes, of course." And then they asked if he wanted a bag of hands. And these are all real from Catholic statues from the 1900s before the French departed. He didn't know what he wanted to do with them at the time, but who could pass up a bag of heads?
Leang Seckon, Skin Pigment: Beauty (2009)
Seckon is one of Cambodia's top artists right now. I met him a long time ago when he'd just come out of art school. A foreigner had just introduced him to the idea of incorporating sewing into his work, which he loved and has used ever since. It's now his signature technique – he uses many things: paper, fabric, even leather. You can see how he leaves the threads hanging loose – Seckon likes to show the process that went into the work. He's fine with leaving things ragged and messy. This work is all about skin pigment and the Cambodian idolisation of white skin, showing that all kinds of pigments can be beautiful – from African faces like Imam to the blonde, white Marilyn Monroe to Cambodian faces.
Truong Tan, Floating Figures (2011)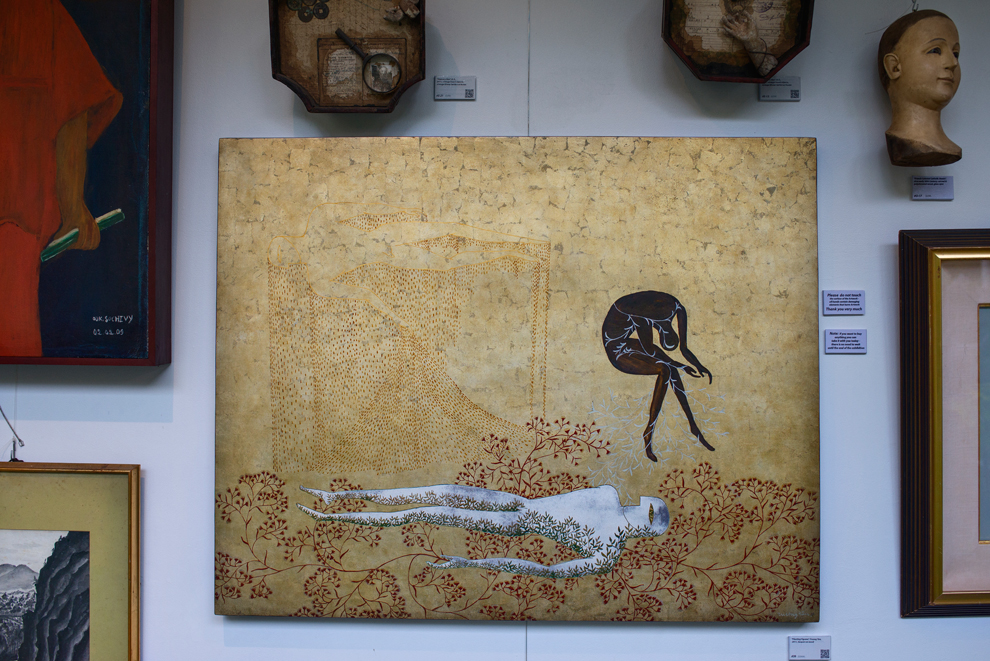 Truong Tan could be described as the Damien Hirst of Vietnam – or even Warhol. His work is incredibly beautiful and he uses that beauty – technique, colours and figures – to seduce the viewer, but he's quite socially conscious and critical; there's a lot going on in his paintings. He often paints about discontentment and persecution in Vietnam. He's collected abroad. Famous abroad. And he's 100 per cent home-grown Vietnamese – born, bred and educated in Vietnam.
Pair of deer sculptures (unknown)
I love the deer. I saw these in an antique shop on Sothearos Boulevard and just went "wow". Look at the patina on the surface where you've got the layers of paint breaking away, the colours. This is not a tourist thing. This is ... who knows? Who wanted deer made with real horns? I've never seen anything else like these. These are vintage decorative objects. I can't put a year on them. Maybe '50s or '60s. Look at the posture, it's so lifelike. They even widened the legs to accommodate the testicles. They really thought about it. They're not made mechanically. It's an example of fine Khmer craft, but old school.
Tran Van Thao, Untitled (2007)
Tran Van Thao emerged in the early 1990s as part of a small cohesive group of Vietnamese artists who focused largely on abstraction. While this was not a new style then internationally speaking, for Vietnam at that time it was a "radical" painting strategy. Why? Because it eschewed the implied pressure to illustrate "Vietnam-ness" in some way in all artwork. They rejected the curse of the "Souvenir Sensibility" so predominant in tourist art markets. Tran Van Thao, especially, was adept at employing muscular, almost sculptural compositions using saturated, organic, edible colours to flesh out his ideas on canvas.
Contact PhnomPenh Post for full article
Post Media Co Ltd
The Elements Condominium, Level 7
Hun Sen Boulevard
Phum Tuol Roka III
Sangkat Chak Angre Krom, Khan Meanchey


12353

Phnom Penh




Cambodia



Tel: +855(0) 23 888 161 / 162
Fax: +855(0) 23 214 318