In a classroom at the Institute of Technology of Cambodia's (ITC) campus in the capital's Tuol Kork district, two engineering students are designing a robotic wheelchair that can be moved with just a thought – or even a blink of the eye.
Cheat Morokot and Oem Daro have connected a neuron headset, which picks up on electric currents in the brain, to a robot that will eventually enable a user to move in any direction based on his or her thoughts. They are currently working to develop the technology further so that just a quick eye movement will set the chair's direction.
Morokot and Daro are just two of the young people at the forefront of a growing movement to bring beneficial robots to Cambodia. Over the course of the past year, the Kingdom has played host to two international robotics conferences in Siem Reap and an inaugural Cambodian conference in Phnom Penh in May.
Morokot was inspired to act after watching a friend's mother. "I saw the difficulties [she experienced] due to her disability, and I had the idea to make a mind-control robot," she said. "My thesis should be something that benefits society, something that is useful."
She and Daro pitched the idea to a supervisor for their senior thesis, and then to the Disability Action Council – which agreed to fund the project.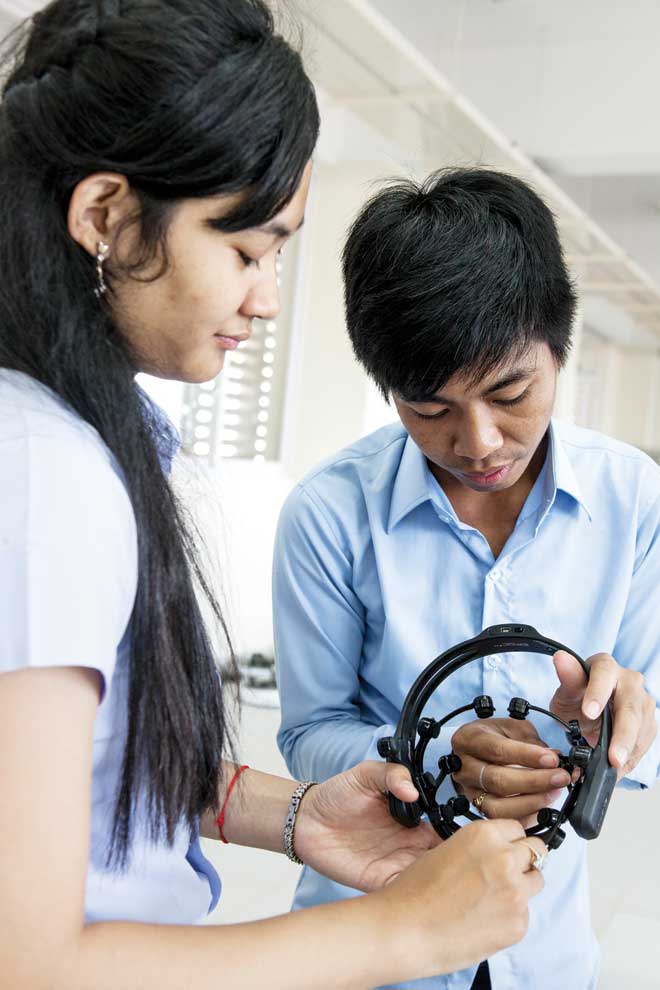 But there was a significant barrier: although the students learned about the technology from a teacher who had studied in South Korea, the pair had to teach themselves many of the necessary skills. A further complication is that none of the documents Morokot and Daro found online were in Khmer.
"The jargon makes it hard," Morokot said.
Education in robotics is on the rise in Cambodia, said Leo Jofeh, a participant in the inaugural Robotics Conference and an educator with STEM Phnom Penh.
Much early investment – and interest – in robotics here has been in the field of demining, he said, including a longstanding joint Villanova University and Golden West Humanitarian Foundation project that could next year see bomb-disposal robots sent into the field in developing countries, including Cambodia.
Morokot and Dara's project, though, focuses on a more immediately human element and, said Jofeh, was likely being applied in Cambodia in this way for the first time.
The pair are not alone in their robotic quest. One of Jofeh's students is working on a related project: to design mind-controlled prosthetics, a technology that has been piloted in other countries. In Cambodia, which has a high rate of disability – many from landmines and UXO – such projects could go a long way.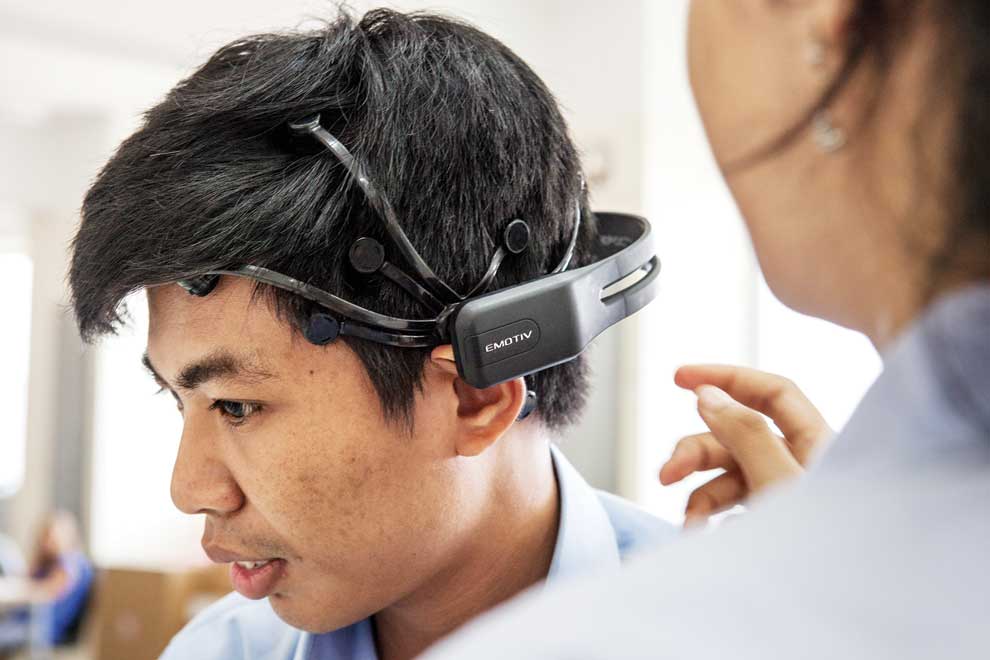 "The effort [here] is more valuable, because there's a much higher proportion of people that need to use prosthetics – and the average income in Cambodia is much lower," he said.
The demining-robot project is being funded by the US State Department. That is the kind of backing students like Morokot and Daro can only dream about. And while the Disability Action Council is paying the costs of developing the wheelchair prototype – the robot itself costs $100, while the headset can cost 10 times that – the NGO has not yet committed to funding a wider rollout of the finished product to those who would need it.
Despite that, the students are committed to their vision: to bring beneficial – and home-grown – technology to the Kingdom.
"I want technology in Cambodia to be developed here," Morokot said. "I want our country to have its own technology, not to import it from others."
Additional reporting by Audrey Wilson
Contact PhnomPenh Post for full article
Post Media Co Ltd
The Elements Condominium, Level 7
Hun Sen Boulevard
Phum Tuol Roka III
Sangkat Chak Angre Krom, Khan Meanchey


12353

Phnom Penh




Cambodia



Tel: +855(0) 23 888 161 / 162
Fax: +855(0) 23 214 318