Despite being known fondly in the Kingdom as "Pursat oranges", the green and yellow fruits Cambodians have come to love are actually grown in Battambang province.
Elderly residents say the unusual citrus fruit was originally planted in the Kingdom during the 90-year French colonial period. Pursat province was originally chosen as the place to plant the fruit trees, and the name stuck.
Despite Pursat having been overtaken by Battambang as the orange capital of Cambodia, tourists who wish to sample the well-known fruit in its "province of birth" can travel by car four hours west of Phnom Penh where they are still grown around the Cardamom Mountains, and in the process, take in the natural landscapes of where they are farmed.
Sam Khim, who heads the Department of Tourism in Pursat province, tells The Post that "around the Lbak Kamrounh resort, there are many Pursat orange farms, and that unofficial data show that there are about 3,000 hectares of groves. Pursat oranges are particularly abundant in the Samrong commune, in Phnom Kravanh district".
He says the province's eponymous orange is sweet and has a pleasant smell. What makes the fruit special is its combination of rich, sweet and sour flavours. He is confident that the texture and taste make it the top green orange in the country.
To visit a farm, visitors must travel 182 kilometres along National Road 55 – from the Nak Ta Klaing Moeurng memorial until they reach the border separating Veal Veng district's Thma Da commune and Thailand's Trat province.
A newly built national road there provides for a leisurely drive to take in the sights of the farms.
Py Nara, a visitor to one of the farms, was surprised to see the orange trees stretching as far as the eyes could see. He says the picturesque view of orange blossoms and hanging fruit in front of the mountains makes him feel at peace.
"I have only bought the Pursat oranges, which were several days old, from the market, but I never knew where they were grown. I came here to pick them myself and see where they are grown with my own eyes. I can taste its freshness . . . It is so sweet and a little sour too – just the perfect texture and taste," Nara says.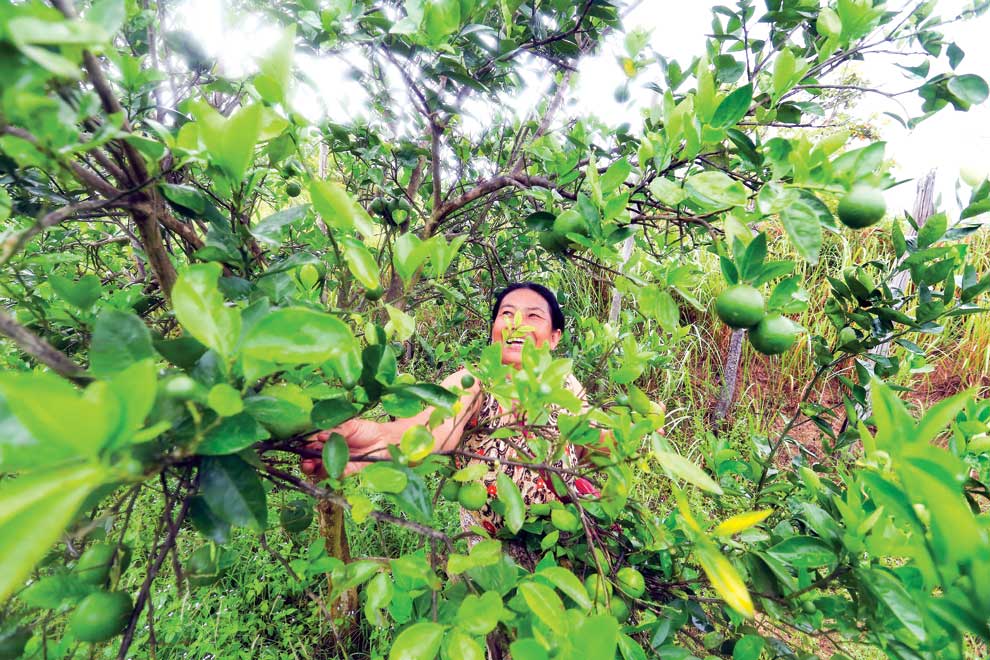 One of the orange farmers, Yi Dy, who owns a 1.5-hectare grove, says tourists can visit her farm any time of the year as Pursat oranges are harvested all year round.
During the rainy season, however, the orange trees yield more fruit than any other time.
Dy, 48, who was busy picking the fruit, says: "Like what you see here, each tree is full with some branches almost falling down because they can't bear all that weight."
Just as her basket was almost full, Dy remembered to mention the price: "Tourists who wish to taste farm-fresh Pursat oranges can also enjoy walking and picking the fruit themselves or have them picked by the farmers. A basket of 42 oranges only costs 25,000 riel [$6.25]."